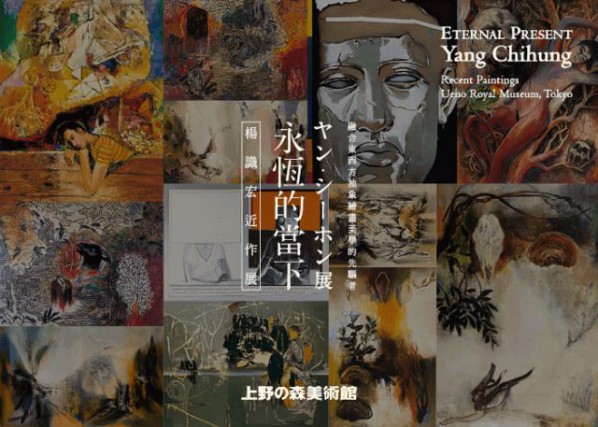 Followed by Yang Chihung's touring talk at the Parsons School of Design in March, 2015, the artist unveiled his first solo exhibition at the Ueno Royal Museum in Tokyo, Japan, from 15th October to 1st November. The exhibition features his recent large paintings and video documentaries.
The connection between Yang Chihung and the museum traces back to his several invited participations in "Asian Contemporary Art Exhibition" between 1970 and 1980. It was a group exhibition organized by Sibahara Yuki that showcased artists with particular aesthetic inspiration and breakthrough. At the same time, Japan's openness towards Western modern art also had prompted Yang to follow every issue of Bijutsutecho and planted the seed of his determination to carry on a journey to the West.
In 1979, he immigrated to New York with family. In 1984, he became the first artist of Chinese descent to be awarded the Clocktower Residency by New York's P.S.1 (now MOMA P.S.1) and had received the "Outstanding Asian-American Artist" award from the Governor of New York. Yang also made an invaluable contribution to the Chinese art world. Through his book New Trends in Modern Art, the artist served as a point of confluence for different cultures. In the 1980s, when Ai Weiwei (1957-), Yuan Yunsheng (1937-), Chen Danqing (1953-), Zhang Xiaogang (1958-), Luo Zhongli (1948-) and Leng Lin (1965-) visited the US, they often spent time with Yang. Today these friends are important figures in the world of art. In 2013, Discovery Channel selected Yang Chihung as one of its featured Chinese painters, interviewing the artist over a one year period in New York and at the 55th Venice Biennial, where he showed the work at "Culture, Mind, Becoming."
The title of this exhibition "Eternal Present" suggests the artist's perspective when looking at life: if eternity is constructed by the ever-changing reality, then Yang's painting can be seen as an attempt to capture his inner feelings and imageries as stimulated by outer environment, resonating with Vincent van Gogh's creative vision: "instead of trying to reproduce exactly what I see before me, I make more arbitrary use of color to express myself more forcefully." In Yang's recent paintings, one sees an increased calligraphic flow and literati spirit, turning his art into polyphony of poems that is personal yet boundless.
The Ueno Royal Museum is an art museum managed by the public-service incorporated foundation, the Japan Art Association, whose current governor and honorary patron is Prince Hitachi. The museum opened in April 1972 as part of the renovations to the art exhibition pavilion at the Japan Art Association Museum, the oldest art association in Japan, having been established in 1879. Loved as an art museum in harmony with the environment of Ueno Park, the museum holds original exhibitions every year, including the Ueno Royal Museum Grand Prize Exhibition, the Japanese Nature Painting Exhibition, and the VOCA Exhibition. In 2007, the museum organized Chu Teh-Chun's "The Great Form is Without Shape – Solo Exhibition of Chu Teh-Chun."
About the exhibition
Duration: 2015-10-15 ~ 2015-11-01
Opening: 2015.10.15 (Thur) 1:30pm
Venue: Ueno Royal Museum, Tokyo
Co-organizers: Asia Art Center, J.P Art Center, Solar Mirror
Address: 1-2 Ueno Park, Taito-ku, Tokyo, 110-0007, Japan
Courtesy of the artist and Ueno Royal Museum, for further information please visit www.ueno-mori.org.
Related posts: