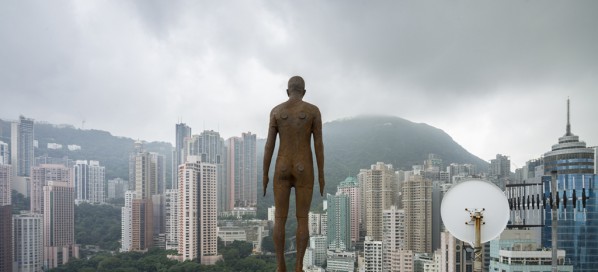 Event Horizon Hong Kong officially launched on 19 November 2015, and will be a part of the Hong Kong cityscape for six months, until 18 May 2016. The most extensive public art installation ever seen in the city, Event Horizon Hong Kong will see 31 sculptures installed at both street level and building tops across a kilometre wide zone of Central and Western district. Presented by British Council Hong Kong with support from lead partner the K11 Art Foundation (KAF), Hong Kong will be the first Asian city to stage the installation following presentations in London, Rotterdam, New York, São Paulo and Rio de Janeiro.
Hong Kongers are encouraged to engage with the project. "The principal dynamic of the work is the relationship between imagination and the horizon, involving the citizen in a game of seeking and perhaps finding. Beyond those figures that you can actually see, how many more are out of sight? I hope that through the work we will look at the city, its relationship to its natural surroundings and the language of the buildings themselves: colonial, corporate, institutional, public and their dialogue one with the other. One of the functions of the work is to make us more aware of the texture and meaning of the environment around us" says artist Antony Gormley.
The installation will be complemented with a strong education and outreach programme which includes dedicated activities and support tools for students, teachers and the general public. The aim is to encourage discussion of art in the city and development of skills such as creative thinking, critical thinking and visual literacy.
About the project
DATE: 19.11.16-18.05.16
VENUE: Street level and building tops acrpss a kilometer wide zone of Central and Western district
Courtesy of the artists, for details of all Event Horizon education and outreach activities in Hong Kong, please visit www.eventhorizon.hk.
Related posts: