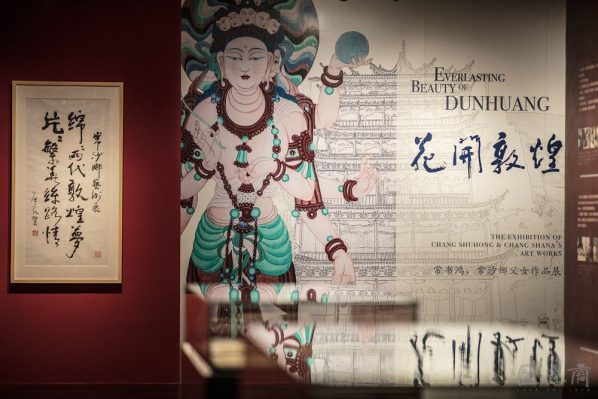 On 15th of July, 2019, the exhibition "Everlasting Beauty of Dunhuang — The Exhibition of Chang Shuhong and Chang Shana's Art Works" commenced on the 3rd floor exhibition hall in Tsinghua University Art Museum. This exhibition features the life and art creation of artists Chang Shuhong and Chang Shana as father and daughter, and the cultural confidence and Dunhuang spirit inherited between the two generations.
Chang Shuhong was one of the most eminent artists among Chinese artists and a forerunner in studying abroad in France. After returning to China, Chang strove to preserve Dunhuang cultural heritage throughout his life. Hence, he was praised as the "Guardian of Dunhuang". His daughter, Chang Shana (Saone Chang), was influenced by him and dedicated her life to education and promotion of Dunhuang. Both of them are well-known Dunhuang experts in China.
Chang Shana carries on her father's work. She started copying and studying Dunhuang murals since she was twelve years old. She demonstrated her talent and was sponsored to study abroad in the U.S. After returning from abroad, she stepped out into the field of arts and crafts under the guidance of Lin Huiyin, noted architect and writer. She applied Dunhuang art patterns using decorative designs of the Great Hall of the People and other national designing projects. Also, as an artist, she was inspired by nature and produced exquisite paintings of flowers. Chang, with her unique artistic style, has made a distinguished contribution to incorporating a Chinese traditional context with a modern design.
The exhibition "Everlasting Beauty of Dunhuang" featuring art works by Chang Shuhong and Chang Shana starts with the "Return From Paris" section, moves into the "Blood Connection" section and finally ends at the section on applications of Dunhuang art. It provides the audience with a real example of the extension and creation based on studying the ancient culture. The exhibition displays around 200 works, connecting the lives of the two generations, and expresses the core idea: cultural protection and inheritance. It evokes the modern generation to introspect towards a mission of success and revive their cultures in this era.
The exhibition is open to the public until 15th of September, 2019.
About the exhibition:
Exhibition Period: 16 July 2019 – 15 September 2019
Exhibition Venue: 3rd floor exhibition hall, Tsinghua University Art Museum
Chief Planner: Su Dan
Counselor: Lu Xiaobo
Curator: Tina Huang
Artists: Chang Shuhong, Chang Shana
Project Coordinator: Wang Chenya, Cui Donghui, Tina Huang
Curatorial Assistant: Bao Yue, Zeng Haowei, Zhou Jian'e
Visual Supervision: Wang Peng, Yu Junya, Qi Qiulan
Visual Design: Guo Xin, Bao Yue
Exhibition Design: Yu Junya, Guo Xin, Bao Yue
Exhibition Team: Wang Chenya, Lan Yu, Zeng Yiye, Zhang Xiaoling, He Hongye, Zhu Chuandong
Translation Consultant: Fiona Tseng
Text Translation: Allen Tseng
Administration Affair: Fiona Tseng
Host: Tsinghua University Art Museum, Academy of Arts & Design, Tsinghua University
Co-organizer: Gansu Provincial Department of Culture and Tourism, Dunhuang Research Academy, Northwerst Normal University, Institute of Jiangnan Silk Palace
Execution Unit: Beijing Succession Art and Culture Co., Ltd.
Text and Photo Provided by Organizer
Edited by Emily Weimeng Zhou/CAFA ART INFO
Related posts: