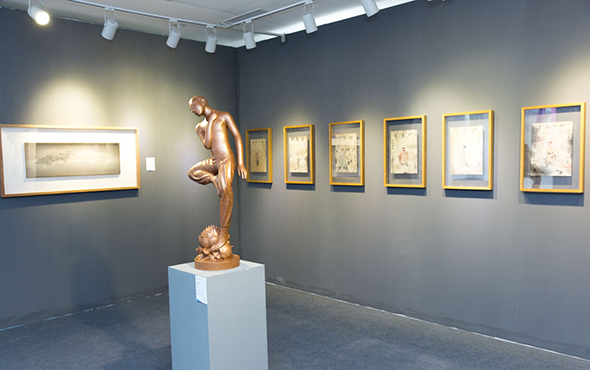 On December 23, 2017, "Excellence/Youth – The First Joint Exhibition Featuring Excellent Art Talent Cultivated by Art Colleges (Art & Design)" was unveiled in Beijing Fun, Quanyechang. The exhibition showcases over 150 pieces (sets) of artworks nominated by 21 universities based in Beijing, and it covers a wide range of media including Chinese painting, oil painting, printmaking, sculpture, photography, design, architecture, multimedia and so on, presenting creative states represented by students who major in art and design among various structures of art schools.
"Excellence/Youth" Joint Exhibition of Art Colleges is an important art project launched by the Beijing University Alliance of Art and Design(Abbr. BUAAD), which promotes the growth and development of young artists. Themed on youth, the exhibition takes "Journey of Excellence / Youth Wandering in Art" as its principal thread, and it integrates modernity, professionalism, artistry, innovation and diversity to create a platform for the continuous growth and development of young talent who are excellent in art. While encouraging young art students at art schools to follow art rules and grasp the epochal spirit, the exhibition plays a constructive role in expanding art creation, visual expression, ideological appeal through various forms of creation, and it embodies the concern and thinking on the individual and society by contemporary youth on their way to pursuing excellence and highlighting youth.
Just as Ms. Rong Yanning, Deputy Director of Higher Education Department, Beijing Municipal Education Commission, mentioned in her speech when she addressed the opening ceremony of the exhibition, ever since the establishment of BUAAD, exchanges and cooperation have been actively conducted among universities, which contribute to a well developed tendency of sharing resources and mutual complements. This exhibition has shown outstanding achievements made by universities from BUAAD on the perspective of educational reform and talent cultivation. Ms. Ai Li, Deputy Party Secretary of Beijing Institute of Fashion Technology, also affirmed that this joint exhibition has provided an exchange platform showcasing academic quality, achievements, tendency, values and epochal tension. Through the exhibition, the diversity of culture and art, the vitality of art development, the love of young students for art, their dedication to art and their spiritual quality of persistence can be found, the audience could feel the infinite charm and vitality of art.
Along with the constant changes in society, the environment and issues confronted by art education has ceaselessly developed. Prof. Sui Jianguo, Deputy Director for the Academic Committee of the Central Academy of Fine Arts who also serves as an expert advisor for BUAAD, mentioned in his speech the challenge of artificial intelligence, we are faced with the question when the artificial intelligence singularity will come, competitions exist on a national level. Since one who sets foot on the road to singularity which will lead the world to the new phrase of development in the world. Besides, singularity will inevitably lead to the imbalance between the development of human physiological awareness and the scientific and technological system, which requires the artist's creative thinking to fill this imbalance.
Ms. Wang Xiaolin, Assistant President of the Central Academy of Fine Arts and Dean of the Academic Affairs Office, mentioned the establishment of BUAAD is in response to the rapid development and changes in the world, when confronted with the globalized tendency and many unknown problems and challenges, especially reactions and adjustments to the global cultural exchange, economic development and new shocks such as technology, information and images. The Central Academy of Fine Arts has always faced new requirements for talent training in the new era, thus they have carried out teaching reforms, and thinking about the future development of higher art education. The Central Academy of Fine Arts takes the establishment of BUAAD as a responsibility. The 21 colleges or universities have various constitutional identities, there are independent art colleges, and there are also art schools in normal universities, as well as art departments in general universities. Various structure and orientation will fit for various cultivation orientation, the establishment of the alliance breaks the boundaries of walls and creates an open, inclusive, sharing interactive state, to meet the new needs of future development in education. Wang Xiaolin also mentioned that the joint exhibition of BUAAD will continue to form a series of brand activities, as well as a cultural phenomenon of Beijing.
"Resourceful youths lead to a resourceful nation, strong youths lead to a strong country," this is what the General Secretary Xi has endowed on the youth in his report at the 19th National Congress. The artists that participated in the exhibition belong to the new generation of art schools and universities, they exchange and interact on this platform and promote their own artistic creations. The exhibition will remain on view till December 29, 2017.
Excellence International Higher Art Education Forum
Theme: Cultivation of Excellent Talent under the Context of Globalization
The tide of economic globalization as well the reciprocal turbulence and collision among global cultures have brought higher art education into a new context, thus the internationalization of education has become the consensus of world education development. To grasp and develop education with an international perspective, has become our common choice. In face of the opportunities and challenges brought by the new era, Excellence International Higher Education Forum invites domestic and international experts and scholars to join in discussions on the new thinking, new ways, new approaches concerning the cultivation of art talent in the context of globalization, to creatively carry out cooperative communication on art education at home and abroad, while expanding the diversity of excellent educational resources and jointly creating a new situation for art education.
Organizer
Beijing University Alliance of Art and Design(Abbr. BUAAD)
Beijing University Alliance of Art and Design(Abbr. BUAAD) was officially established in April, 2016 under the guidance and support from Beijing Municipal Education Commission, according to its requirements and guided by the documents of "Beijing Medium and Long-term Education Reform and Development Essentials (2010–2020)" and "Beijing Municipal '12th Five-Year' Plan for Educational Reform and Development", led by the Central Academy of Fine Arts, which has been associated with 21 colleges and universities to establish Beijing University Alliance of Art and Design(Abbr. BUAAD). BUAAD aims to cater to the needs of innovative talent in the new historical situation, to improve the cultivation quality of higher art education in China while bringing into play improved advantages for Beijing in its concentration of art colleges, rich teaching resources, leading disciplines of art and design in China. With the "BUAAD" as the form of organization, a full range of cross-college cooperative activities proceed to construct a platform of exchange and communication for important art schools in Beijing, to carry out international exchange and cooperation and conduct research and exploration on the disciplinary construction of higher art education, personnel training program, teaching management modes and so on in our country.
Members:

The Central Academy of Fine Arts, Renmin University of China, Tsinghua University, Beijing Institute of Technology, Beijing University of Posts and Telecommunications, Beijing Forestry University, Beijing Normal University, Communication University of China, Central Conservatory of Music, The Central Academy of Drama, Minzu University of China, Beijing University of Technology, Beijing Institute of Fashion Technology, Beijing Institute of Graphic Communication, Beijing University of Civil Engineering and Architecture, Capital Normal University, China Conservatory of Music, The National Academy of Chinese Theatre Arts, Beijing Film Academy, Beijing Dance Academy, Beijing Union University, Beijing City University, Kede College of Capital Normal University.
About the exhibition
Exhibition Duration: 23 – 29 December, 2017
Opening Reception: 9:30am, 23 December, 2017 (Saturday)
( Register of Honored Guests: 9:00am, 23 December, 2017)
Exhibition Venue: Beijing Fun·Quanyechang
Forum Opening: 10:00am, 23 December, 2017 (Saturday)
Forum Duration: 23 December, 2017 (Full Day)
Forum Venue: 4th Floor, Beijing Fun·Quanyechang
December 24th – 29th, 2017
Art Lecture / Salon / Educational Themed Activities
Text and Photo by Zhang Wenzhi, translated and edited by Sue/CAFA ART INFO
Photo Courtesy of BUAAD.
Related posts: