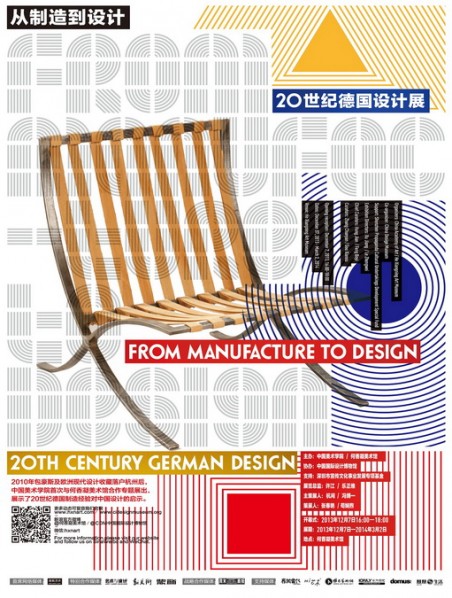 The exhibition "From Manufacture to Design: 20th Century German Design" in He Xiangning Art Museum narrates the story of Germany's design success, giving an inspiring overview of the past 100 years. It will remain on view until March 2, 2014.
The works on display are provided by China Design Museum from the prosperous coastal city of Hangzhou. In 2011, Hangzhou purchased 7,010 pieces of items from German collector Torsten Broehan, including furniture, houseware and posters, dating from the 1850s to the end of the 20th century.
Many of the pieces, which make their public debut in Shenzhen, are considered landmarks of the design industry. One of them is a prototype of the Barcelona Chair designed by Ludwig Mies van der Rohe and Lilly Reich. It was originally designed for the International Exposition of 1929, which was hosted by Barcelona, Spain. The chair's frame was formed by steel, with a leather cushion above, giving it a smoother appearance. Since 1953, Knoll Inc. has manufactured the chair and copycats also proliferate worldwide. The prototype exhibit in Shenzhen doesn't have a leather cushion.
The exhibition, with more than 100 pieces of work, covers all important periods of German design's development, including 1899's Darmstadt Artists' Colony, 1907's Deutscher Werkbund (German Association of Craftsmen) and the Bauhaus school of 1919. The two associations and the school were the driving forces in Germany's modernism in the early 20th century. Outstanding designers included Peter Behrens, Ludwig Mies van der Rohe and Walter Gropius.
Darmstadt Artists' Colony was the center of German Art Nouveau and the earliest group of designers to experiment the combination of crafts and techniques. The Deutscher Werkbund was meant to establish a partnership of product manufacturers with design professionals to improve the competitiveness of German companies in global markets. One example was Behrens' pioneering industrial design works for the German electrical company AEG, which successfully integrated art and mass production on a large scale and developed a consistent corporate identity.
Bauhaus was founded amid the ideas of rational, functional and standardized manufacture. The school was famous for not only the approach to design it taught, but also its experimental workshops which focused on practice.
When Bauhaus was closed under pressure from the Nazi regime, who claimed that it was a center of communist intellectualism, some designers and manufacturers had to leave Germany and immigrated to the United States, which helped take German design concepts to the world.
Apart from showcasing products, the Shenzhen exhibition also displays German efforts in promoting a lifestyle to the world. The Deutscher Werkbund's motto "from sofa cushions to city-building" indicates the integration of products and life, promoting a better way of living. The association also held a string of renowned industrial design exhibitions, such as the Cologne exhibition in 1914. The acceptance of modernist design into everyday life was the subject of all these publicity campaigns.
In less than 100 years, Germany used clean-lined designs, standardized manufacture and newly developed materials to put itself on a competitive footing in the world. Curator Zhang said she hoped the exhibition could give inspiration to China.
"Design is not merely beautifying a product and German design didn't succeed in a day. From Germany's experience, design is building a whole system of products and society under the circumstance of industrialization. China's industrialization still lags behind and is facing the same problems of Germany's early days, that is, industrial reconstruction. Meanwhile, China has to face new problems like globalization and digitalization," said Zhang.
Courtesy of He Xiangning Art Museum and Shenzhen Daily, for further information please visit www.hxnart.com.

Related posts: