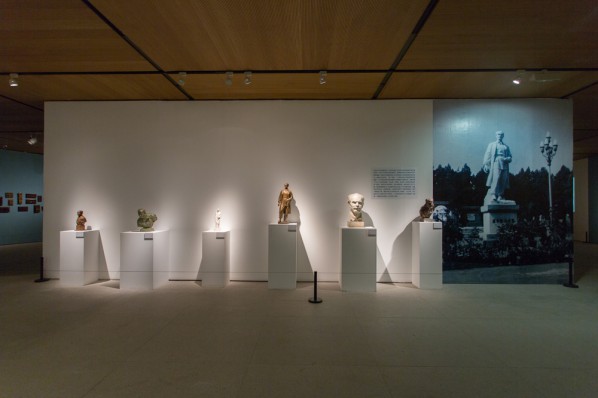 On August 5th 2014, Casting Temperature— Second-Generation Chinese Sculptor Situ Jie opened at CAFAM. This exhibition was hosted by CAFA, organized by CAFAM, and planned by Liu Libin, the associate researcher of the CAFA Institute. It was at the same time that the exhibition of Situ Qiao, the elder brother of Situ Jie opened, which was named "Painting With Tears-Love and Hate in Situ Qiao's Art World".
As the representative of "Second-Generation Chinese Sculptor", Situ Jie worked as a teacher in Beiping Art School (renamed Central Academy of Fine Arts after the founding of the PRC) until the end of the 1980s. During his 40-year's teaching period, he had cultivated generations of sculptors of CAFA such as Sheng Yang, Zhang Dedi, Bao Pao, Zhan Wang, Wang Zhong and Yin Gang. This exhibition aims to review the developing history of modern Chinese sculpture in the 20th century, as well as to show the inheritance relationship between the sculptors of this generation and those of other generations.
At the press conference of the Exhibition, the museum director Wang Huangsheng said that this was a content-rich exhibition with a research perspective. It took the Fine Arts Museum nearly two years and a great effort to prepare for this exhibition. Wang said that Situ Jie had made a great contribution to modern Chinese sculpture, and that he grew up under the guidance of China's first-generation sculptors. Situ Jie emigrated to Canada in his later years, which promoted the exchange of Chinese and western art. When Situ Meng, Situ Jie's daughter looked back to her father's proposition in sculpture, she said, "My father spent his whole life teaching in CAFA, and his greatest wish was to continue in the pursuit of Chinese folk sculpture, for which he dedicated himself to and was committed to finding ways to combine western and Chinese folk sculpture." Referring to her father, she emotionally said that he was a very humble man who never went after fame and fortune. He would work hard without asking for anything as long as he had made up his mind.
At 10:30 in the morning, Wang Huangsheng hosted the opening ceremony in the big hall on the first floor. Vice-president of CAFA Xu Bing, vice-director of the National Art Museum of China An Yuanyuan, the curator Liu Libin and other elderly gentlemen from CAFA attended the opening ceremony. Xu Bing mentioned in his statement, "The two brothers Situ Qiao and Situ Jie were the professors of CAFA. They had made significant contributions to Chinese fine arts careers and CAFA. Today, we are hosting their solo exhibitions here to commemorate these two professors. These exhibitions are not only to express our respect to their artistic spirits and achievements, but also to question and reflect on the essence of art." Liu Libin highlighted that Situ Jie was a distinguished sculptor and professor who had students all around the world. And his contribution and significance, which were of great importance, were also the emphasis of this exhibition. At the opening ceremony, Situ Meng donated more than ten works of her father to CAFA for their collection, and in return, Xu Bing issued the collection certificates to her on behalf of CAFA and expressed their gratitude.
As for the origin of this exhibition, the curator Liu Libin introduced, "There are not many contemporary Chinese sculptors who could open solo exhibitions, not to mention the first-generation sculptors. I am deeply moved when CAFAM invited me to be the curator for this exhibition." This exhibition mainly contains three parts. The first part is "Calendar and Commemoration—Monuments of the Era". The works of this part are the monumental sculptures about Norman Bethune, Chairman Mao and Chinese railway workers in Canada, including China's first large-scale sculpture Portrait of Chairman Mao, which was in cooperation with Situ Jie and Tsinghua University. The second part is "Folk Sculptures—Traditional Arts", mainly about the discovery of traditional folk arts such as Chaozhou wood carvings, as well as his creation path of "imagery sculpture" which was learned from folk art. The third part is "Novelty and Creation—Century Inheritance". It focuses on presenting three main aspects in Situ Jie's art creation and teaching, including the three-dimensional sculptural method based on photo slides, sculpture sketching methods, and the research results of western abstract sculpture. The introduction of western classical-style sculpture into China is called "Novelty". Situ Jie also explored the relationship between modern Chinese and western sculpture, and passed on everything he saw, learned, and acquired by his students to broaden their views, enabling them to link with the dynamic knowledge of western contemporary art at the beginning of the Reform and Opening up. This is called "Creation".
As curator Liu Libin said, the exhibitions of Situ Qiao and Situ Jie not only presented their artistic achievements, but also their important educational significance to all the teachers and students in CAFA. This exhibition will last until September 10th after the new term begins.
Text by Lin Jiabin, edited by Zhang Wenzhi/CAFA ART INFO
Translated by Chen Nuoyi, edited by Sue/CAFA ART INFO
Photo by Quan Jing/CAFA ART INFO
Related posts: