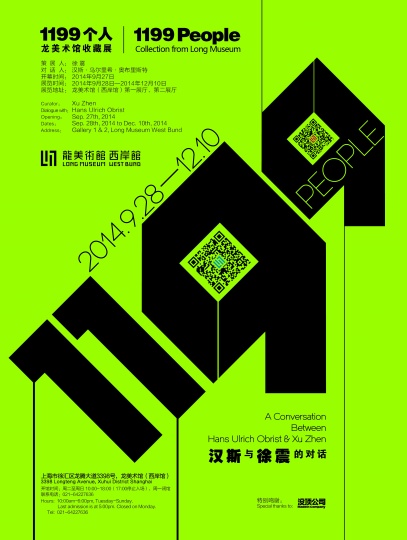 1199 People – Collection from Long Museum is an ingenious exhibition, which is aim to break the traditional conception of curatorial philosophy and the plan of installation. Invited by Hans Ulrich Obrist who is the world-renowned curator and the Co-Director, Exhibitions and Programmes and Director of International Projects of Serpentine Galleries, the Chinese contemporary artist Xu Zhen proposed a personalized exhibition from an artist's perspective.
Xu Zhen selected a number of the paintings with figures from the rich collection of Long Museum and displays them in the order of the number of figures represented – single woman, single man, two figures, groups. This is a very original exhibition planning concept hardly adopted by the previous curators. Therefore, Hans Ulrich Obrist will have a dialogue with Xu Zhen to discuss the concept of the exhibition and some other academic topics related to this exhibition. This dialogue will be published on the exhibition catalogues to enhance the audience's understanding of the exhibition and to provoke the interaction.
This exhibition will display more than three hundred pieces of figure paintings which created by hundreds of artists after the period of Chinese Economic Reform (which started from December 18th, 1978). The number "1199" in the exhibition title is the overall number of figure images showing in the exhibition. By this show, the curator Xu Zhen tries to across a variety of artistic ideological trends and creative concept, simply purifying human relationships from the general appearance of the pictures, in order to reply the question: "Who we are and where we came from and where shall we go?" from the ancient Greek philosopher Socrates, and providing various possibility to interpret this ultimate questions of human beings from the contemporary artistic perspective.
About the exhibition
Dates: Sep 28, 2014 — Dec 10, 2014
Opening: Sep 27, 2014
Organizer: Long Museum, Gallery 1&2 Long Museum West Bund
Curator: Xu Zhen
Academic Support: Hans Ulrich Obrist
Tickets Info
Ticket Price: 50RMB/person
Concessions: 50% discount for seniors over 70, teachers and college students with valid certificates;
Free Ticket: Middle school and primary school students, soldiers and person with disability.
Group Ticket: 30% discount for groups with 20 or more persons (Telephone reservation required at 86-21-68778787, This cannot be used in conjunction with other preferential terms)
Courtesy of the artists and Long Museum, for further information please visit http://thelongmuseum.org.
Related posts: