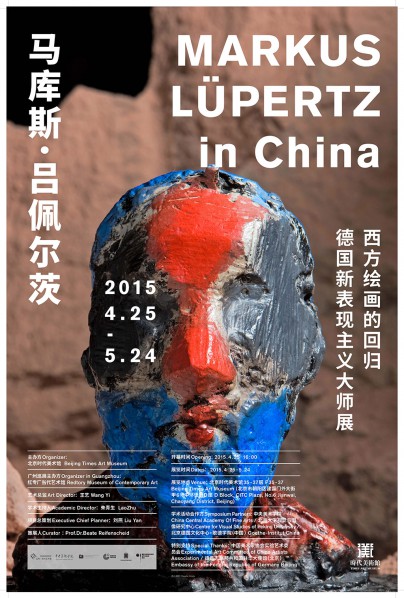 April 25, 2015, the German Neo-Expressionist master Markus Lüpertz will bring his recent works altogether 81 pieces (56 paintings, 25 sculptures) created over the past decade to the Times Art Museum in Beijing. The exhibition will be his largest and most important solo exhibition to date in China.
Born in Reichenberg, Bohemia (now Liberec, Czech Republic) in 1941, Lüpertz is today among the most prominent and individualistic exponents of German Neo-Expressionism. An artist who lives and works in Berlin, Düsseldorf and Karlsruhe, Lüpertz played a fundamental role in the development of "painters' sculpture". In this genre he produces over-life-size works of monumental character. Within this context, his transformation of classical-antique artistic principles provokes a new examination of classical ideals of beauty and their traditional motifs. Without ever paying homage to the spirit of the times, Lüpertz thus transcends the traditional attributes of the hero to achieve a necessarily contemporary perspective that penetrates the lucid space between the human and the superhuman, the creative and the ingenious. Lüpertz has often made reference to the artist's double role as a creator and a craftsman whose task is to uncouple art from craftsmanship. In this sense, the genius of the artist is mirrored in the struggle of the hero.
It is a career that began in 1962 with Lüpertz's move from Düsseldorf to Berlin, where he developed "dithyrambic painting". The term "dithyrambic" refers to a key concept in Friedrich Nietzsche's cycle of Dionysian poems. Lüpertz presented his "dithyrambic painting" in 1942 in an exhibition of the same name marking the opening of Galerie Grossgörschen 35 in Berlin. A further show, staged at the Galerie Potsdamer in Berlin in 1966, was titled "Markus Lüpertz. Die Anmut des 20. Jahrhunderts wird durch die von mir erfundene Dithyrambe sichtbar gemacht!" ("The charm of the twentieth century made visible by my invention, the dithyramb!"). This self-confident title was also that of the artist's manifesto, which he published in 1968.
Likewise in 1968, Lüpertz exhibited at Michael Werner's Berlin gallery for the first time; annual exhibitions at Galerie Werner in Cologne would follow. Further shows, to mention just a few of the most important, were "Markus Lüpertz. Bilder, Gouachen, Zeichnungen. 1967-1973" ("Paintings, Gouaches, Drawings 1967-1973") at the Staatliche Kunsthalle Baden-Baden, and "Markus Lüpertz, Dithyrambische und Stil-Malerei" ("Dithyrambic and Style Painting") at the Kunsthalle Bern in 1977. In 1990 he was awarded the "Lovis-Corinth-Preis" of the Künstlergilde Esslingen. The following year saw the staging of the "Retrospective 1963/1990" at the Museo Nacional Centro de Arte Reina Sofía in Madrid, and in 1997 the Stedelijk Museum in Amsterdam showed works by the artist in an exhibition titled "Markus Lüpertz: Schilderijen, Paintings".
In 2004 Lüpertz was distinguished with the "Premio Internacional Julio González" of the Autonomous Region of Valencia; in 2006 he was awarded an honorary doctorate by the art academy in Wroclaw. In 2009/10 the Kunst- und Ausstellungshalle der Bundesrepublik Deutschland in Bonn mounted the most extensive solo exhibition on Lüpertz to date: "Hauptwege und Nebenwege. Eine Retrospektive. Bilder und Skulpturen von 1963 bis 2009" ("Highways and Byways: A Retrospective – Paintings and Sculptures from 1963 to 2009"). Yet another superlative is the monumental Herkules in Gelsenkirchen, constructed over the course of more than a year from 244 individual cast aluminium parts and erected in 2010. In 2013 Lüpertz was the first visual artist to be honoured with the "Leipzig International Mendelssohn Prize".
About the Lecture
Speaker: Markus Lüpertz
Host: Fan Di'an
Guests: Ma Lu, Yi Ying
Organizer: CAFA
Co-organizer: Beijing Times Art Museum
Time: April 27, 2015, 14:00
Venue: Auditorium of CAFA Art Museum
About the Exhibition
Title: Markus Lüpertz in China
Duration: April 25 – May 24, 2015
Opening: 14:00 (symposium)/ 16:00 (opening ceremony) on April 25, 2015
Sponsor: Beijing Times Art Museum
Artistic Director: Wang Yi
Academic Director: LaoZhu
Executive Chief Planner: Liu Yan
Curator: Prof. Dr. Beate Reifenscheid
Venue: Beijing Times Art Museum
Address: D Block, CITC Plaza, No.6 Jianwai, Chaoyang District, Beijing
For further information please visit www.timesartmuseum.com.
Special Support: Experimental Art Committee of China Artists Association/ Embassy of the Federal Republic of Germany in Beijing
Academic Activities Partners: CAFA / Center for Visual Studies at Peking University/ German Cultural Center in Beijing • Goethe Institute (China)
Three lectures will be respectively held in Peking University on April 26, CAFA on April 27 and Peking University on May 18.
Organizer of Guangzhou station: Redtory Museum of Contemporary Art
Duration: June 13 – August 3, 2015
Location: No. 128, Yuancun Si Heng Rd., Tianhe District, Guangzhou
For further information please visit www.redtory.com.cn/rednew_en.
Courtesy of the artist and CAFA Art Museum, translated by Chen Peihua and edited by Sue/CAFA Art Museum.
Related posts: