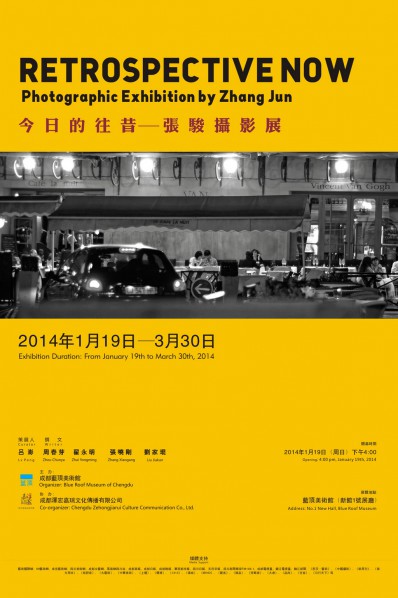 Retrospective Now
By Lv Peng
Photographers are used to recording moments of scenery and figures through shutter. Zhang Jun is no exception. His works, however, are different from others in that they can remind us of old times. Through his techniques, he manages to make his photos antique even though they were taken a moment ago.
The stories in his works, if real, are set in different scenes, like wildness, small towns, churches, teahouses, Chengdu, Toledo, Arles etc. Everything in his works, not only the people but also a chair or traces on the wall, speaks to us about comfortable and sometimes melancholy stories.
Photo is narration about presence, whether static or dynamic. He wants to reveal such truth to us. His real intention might not be demonstration of what he sees for this moment. He tries to compose a story or scenario by combining those figures and people, inspired by experiences. The result is that a true inner world is established with all experiences and spiritual activities. Friends, scenery and stories in Zhang Jun's works are what he wants them to be like. Therefore, what we see is not the things that just happened; it is things that happened a long time ago. These photos, though just taken, reflect yesterdays.
The experiences and tastes from painting have a great influence on Zhang Jun's photography, which forms his special aestheticism. However, such an instinct from life makes him unsatisfied with present. He reflects the past ideas, meditations and nostalgia into his shooting and processing. This makes it hard to distinguish the time in his photos—familiar and unfamiliar, imaginary and objective, dream and reality, colored and colorless and past and present. In general, he is reluctant to distinguish the time in his photos. People born in 50s and 60s had a narrow channel to understand world. It holds true for painting art. They got to know art and art history through booklet from Russia. In the 80s, booklets still served as the primary channel to the outside world. I have never been to Toledo but Greco's paintings provide me with such familiar and true imaginations. When I see photos of Toledo, I felt like I have been there before. The familiarity and truth have been developed through Greco's paintings. Zhang Jun links past to the present. The knowledge about strange world is so magical that we forget about time and only want to know about the core of the world.
Fuzziness in Time is a special mental experience just like drunkenness, resulted from personal experiences, knowledge, and feelings during shooting and processing. In all art forms, the integration of experience, knowledge and feeling is the most touching and unforgettable. Today is yesterday and yesterday is also today. Life is too short to ask for anything. These photos can be a token of what was good in life. This is what Zhang Jun can offer to us. Therefore, people name it as "eternity".
About the exhibition
Duration: January 19 – March 3, 2014
Venue: Gallery 1 of New Blueroof Art Gallery
Courtesy of the artist and Blueroof Art Gallery, for further information please visit www.blueroofmuseum.com.
Related posts: