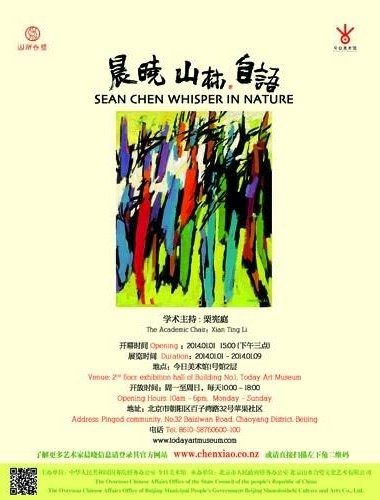 Sean Chen was born in Zhejiang, and studied art across China since 1979. He participated in 85 New Space Art Exhibition, Zhejiang State Exhibition and China National Art Exhibition several times. Since 1986, Sean had studied in Australia and then migrated to New Zealand since 1988, where he obtained his degree of Visual Arts from the Fine Arts School, University of Auckland. From 1992 to 1998, Sean travelled broadly around the world for over 40 countries, visiting many famous galleries and museums as well as presenting and participating in various seminars at a number of distinguished art institutes and universities. Then he have been in New Zealand until now.
Sean Chen is an Expressionist painter, whose painting style takes and combines the elements of Expressionism with explorations of brush strokes, colours and tones. He merges eastern and western elements in his art creations with particular emphasis on the multicultural aspects of New Zealand. His works have been widely collected and appreciated by the western art societies and critics.
The morning of January 1st by Mr. Li Xianting as the academic chair of the 2014 annual first exhibition, will display the artist's latest graphic works about 45 pieces. Also, the artist has more visually stunning set of sculpture works of 10, Don't neglect another bright spot is the first comprehensive show that he will present "Woods" device sculpture. The exhibition will remain on view till January 9 at Today Art Museum.
About the exhibition
Duration: Jan 1 – 9, 2014
Venue: Today Art Museum – 2nd floor exhibition hall of Building No.1
Opening: Jan 1, 2014 Wed 3:00pm
Opening Hours: 10:00-18:00, Closed on Tuesday
Tel: 010-58760600
Add: Pingod community, No.32 Baiziwan Road, Chaoyang District, Beijing
Courtesy of the artist and Today Art Museum, for further information please visit www.todayartmuseum.com.
Related posts: