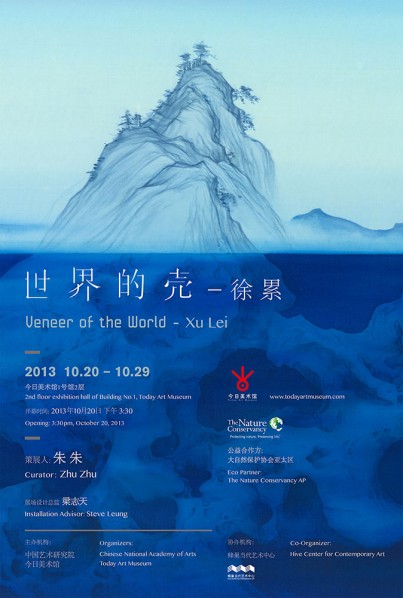 Exhibition Preface
Veneer of the World is the first exhibition of Xu Lei's major works in Beijing, and includes his most important paintings from 1995 to 2013.
Xu Lei (b. 1963 in Nantong, Jiangsu Province) studied Chinese painting the Nanjing Art Academy, and currently works at the Chinese National Academy of Arts. In the 1980s, he took part in the avant-garde movement known as the 85 New Wave. After a period of modernist conceptual practice, he began to retrace the value of Chinese artistic traditions in the 1990s, opening up a new individual creative path through a rich visual language of painting, and producing a successful example of the reactivation of traditional resources and value.
Xu Lei's meticulous gongbi style paintings follow traditional techniques and establish a visual contextual relationship with the ancient classics, but his most important contribution has been his use of independent thinking to put a profound reading of the Chinese people and modern art into practice, which he uses to reappraise the original value of classical culture. His practice has transformed the rhetorical strategies of surrealism and creatively absorbed the artistic influences of Marcel Duchamp, Rene Magritte and Yves Klein, and the conceptual influences of Sigmund Freud, Jacques Lacan and Roland Barthes as he has been engaged in the intellectual challenge between word and object. Meanwhile, his subject matter has consistently linked to the decadent aesthetics and meditations on emptiness found in the Eastern perspective.
Xu Lei's ideal can be seen as a concealed form of ideological resistance. The emphasis on privacy, sensuality and illusion in his paintings allude to an ontological force of aesthetics, radiating the allure of formalism—his well-known blue glaze horse imagery and his use of curtains and screens to divide painted space have become the markers of his individual language. In his recent massive artworks, he has removed the sense of skill that marked his personal imagery in the past, and shifted towards the expression of simple, refined natural themes, thus highlighting the awareness of the vastness of the universe. The once closed spaces in his works have been opened up to become dialectical imaginings of inner and outer space, and have been elevated to a more beautiful and poetic realm.
With his body of work, Xu Lei has deconstructed the ossified formulae of ink painting. With courage and wisdom, he has opened up a path to the modern world for the once deadlocked field of Chinese painting. His accomplishments and influence stand as a testament for a new generation of young ink art practitioners. He is rightly renowned as a pioneer of his generation.
About the exhibition
Organizers: Chinese National Academy of Arts, Today Art Museum
Co-Organizer: Hive Center for Contemporary Art
Curator: Zhu Zhu
Opening: 3:30pm, October 20, 2013
Duration: 2013.10.20 — 2013.10.29
Location: 2nd floor exhibition hall of Building No.1, Today Art Museum
Related posts: