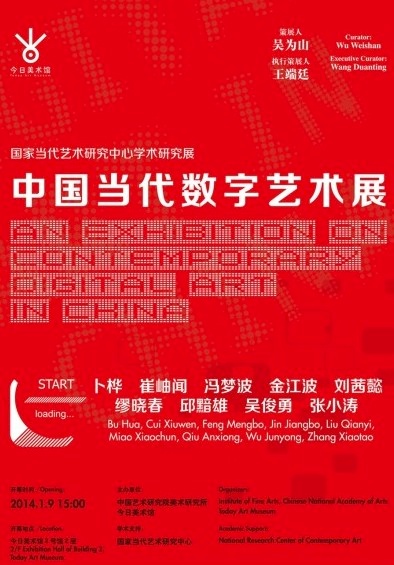 Digital art is an emerging genre of art in international art world since 1980s. It is not only the most important contents of major international exhibitions such as the Venice Biennial, Kassel Document and the Sao Paolo Biennial, but also a main field where artists from all parts of the world compete for the power of discourse and influences. In order to intensively showcase the achievements in digital art of our country, and to promote the theoretical research in this field, National Research Center of Contemporary Art invites ten of the most outstanding digital artists including Pu Hua, Cui Xiuwen, Feng Mengbo, Jin Jiangbo, Liu Qianyi, Miao Xiaochun, Qiu Anxiong, Wu Junyong, Zhang Xiaotao, to present their works at the Exhibition of China's Contemporary Digital Art. The exhibition features the most representative virtual 2D and 3D animation works created by these artists in recent years.
About the exhibition
Opening time: 3:00pm, Jan.9, 2014
Duration: 2014.01.09 — 2014.02.24
Location: 2/F Exhibition Hall of Building 2, 1/F, 2/F Exhibition Hall of Building 3, Today Art Museum
Courtesy of the artists and Today Art Museum, for further information please visit www.todayartmuseum.com.
Related posts: