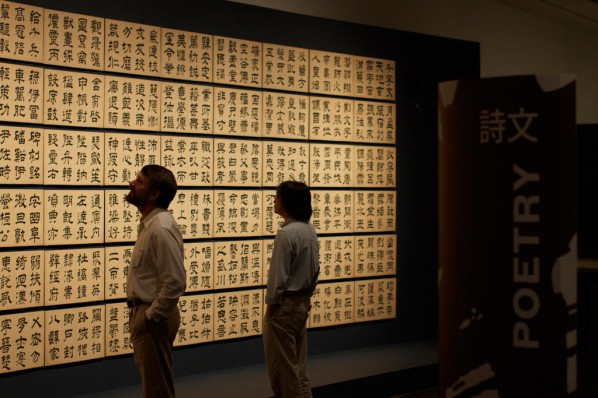 Chinese calligraphy is a visual art. Rather than content, the fluid strokes, dots and lines that form each character are its focus. Centuries of tradition have created strict conventions governing the tools, formats, and scripts calligraphers use. Within these confines, artists make subtle choices that result in profound self-expression.
5 styles of script have evolved over 2000 years: Seal script, Clerical script, Cursive script, Semi-cursive script, Standard script.
Calligraphy is painted either on paper or silk, which each respond to ink and brush differently. These materials take one of several formats: Handscrolls are sheets of paper that could be rolled, covered in silk, and stored away. Owners added additional sheets of paper over time, so that scrolls could grow to up to 20 feet in length. Out of Character exhibits some scrolls in their entirety, stretching up to 10 meters. Other formats include fans, albums and hanging scrolls.
One of the most exciting things about Out of Character: Decoding Chinese Calligraphy is without doubt the new work acclaimed Chinese artist Xu Bing is creating for the exhibition. Xu Bing's work is an animation, but as it is being created right now there's not a whole lot more we can tell you about it yet. However, we did just receive some amazing stats from the artist. Each day 14 people (including Xu Bing) are working on the project. They work 10 hours per day and have worked 35 days thus far; a total of 4900 person hours to date. Given that work will continue through September, they expect a further 5600 hours to be added to this number. Xu Bing has drawn approximately 50 drafts and more than 1000 hand drawn sketches. There could be thousands more sketches by the end of the project.
Connoisseurs and collectors have had their own impact on the history of Chinese calligraphy. Owners' seals are significant enough that they have their own tradition and set of practices—seal carving itself is an art. The red paste of collectors' seals adorns each work, creating a map of ownership that can be followed back through hundreds of years. For Jerry Yang, collecting came later in life. "Chinese calligraphy has allowed me to bridge the many layers and intricate connections of people, places, and time," Yang, who studied and practiced calligraphy as a young boy says. "Appreciating calligraphy continues to be a journey of discovery and helps me understand the past and see the future." Out of Character bears witness to his ongoing passion for calligraphy and his outstanding collection.
The influence of Chinese calligraphy is evident throughout the art world. Out of Character features expressionist paintings by Brice Marden, Franz Kline, and Mark Tobey. Below Brice Marden comments on calligraphy's influence on his work, "I think of Chinese calligraphy as simply the way I see it, not knowing the language. . . . But if someone translates a piece for me, and I hear the relationships I am affected by that. . . I start out with a formal structure—couplets or whatever. Then I take it from there. It's about joining things up, making relationships, but at the same time letting the drawing itself do the work."
With the Out of Character: Decoding Chinese Calligraphy exhibition as a point of departure, six scholars provide an introduction to the art of calligraphy through talks aimed at deciphering the calligrapher's complex world on Saturday, October 13, 2012. Senior curator of Chinese art Michael Knight will talk with Jerry Yang about his collection of Chinese calligraphy, the Guanyuan Shanzhuang Collection, presented in Out of Character. Speakers include Joseph Chang of the Asian Art Museum (AAM), Jonathan Chaves of George Washington University, Michael Knight of the AAM, Amy McNair of Kansas University, Peter Sturman of the University of California at Santa Barbara, and Bai Qianshen of Boston University.
About the Exhibition
Duration: Oct 5, 2012–Jan 13, 2013
Venue: Asian Art Museum, 200 Larkin St., San Francisco, CA 94102
Courtesy of Asian Art Museum, for further information please visit www.asianart.org.
Related posts: