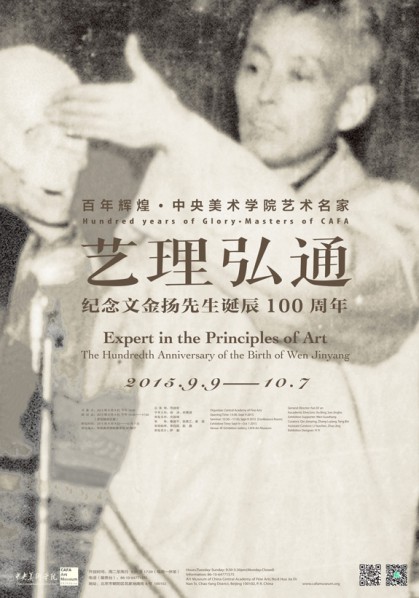 Foreword
The cause of fine arts development in China in the 20th century started in the context of the introduction of western art studies and cultural interactions between China and the West. Western art studies include not only the western tradition and experience in painting, sculpture and other forms of artistic creation, but also technique theories which serve as the foundation of art. The research and teaching in the latter is a cause of devoting silent work to laying solid a foundation for cultivating art talents. Since the early 20th century, many Chinese artists attached much importance to studying technique theories while engaging in creative practices. They wrote books and gave lectures, thus making fine arts technique theory a new academic subject. Among the scholars, however, it is Mr. Wen Jinyang who has worked persistently in this field and made efforts in all the three aspects of anatomy, perspective and color.
When he was young, he started to learn art from Mr. Xu Beihong and Mr. Wu Zuoren. Following the teachers' instructions, he not only studied painting but also devoted efforts to studying painting technique theories. In his early years, he compiled the Middle School Fine Arts Textbook and Teaching Methodology. Mr. Xu Beihong wrote the title and foreword for the book, stressing that "art and science are different, but the initial acquisition of artistic knowledge still relies on science; the progress of art lies in changes, but without proper knowledge of science, there will be no understanding of changes; that's why art, first and foremost, starts from closely observing all objects and phenomena to acquire the proper knowledge and that is the most important thing." After the founding of the China Central Academy of Fine Arts in 1950, at the invitation of Mr. Xu Beihong, Mr. Wen Jinyang started to teach at the Central Academy and thereafter he chaired the teaching and research section on technique theory for a long time. He followed the academic pursuit of Mr. Xu Beihong who advocated that "artists should have the same spirit of seeking truth as scientists do". He quietly immersed himself in hard work with full commitment and lifted the Central Academy's technique theory teaching from a weak state to a normal state by establishing teaching standards and putting in place equipment and teaching tools. The courses he taught offered a new window for the students, which represents, in terms of basic teaching, a good example of the standardization of national advanced fine arts education in the 1950s. Mr. Wen Jinyang's devoted himself in writting Human Anatomy for Artists (published by the Zhaohua Fine Arts Publishing House in 1956), Perspective Applied in Painting (published by the People's Fine Arts Publishing House in 1963) and The Science of Colors for Painting (published by the Shandong People's Publishing House in 1982). Those works became one of the most important books in the technique teaching of painting, which also spread widely and reach far influence. Although Mr. Wen Jinyang's paintings are not well known, he really is very talented, from Mr. Wen Jinyang's sketching, woodcut, western watercolor and oil painting, we can easily see that his meticulous formative design and great mastery creat a new style. When the new China founded, he actively devoted his art talent to the new life, and with great passion, he has reached out to the people in real life. Mr. Wen Jinyang also took field trips to construction sites. Quite a number of his sketches describe the broad and fervent working scenes during his visits to factories, wharfs and reservoir construction sites, those sketches are s huge in perspective, depicting the enthusiastic working scenes. The representing oil painting The Reservoir of the Ming Tomb and The Guanting Reservoir, although small in size but have so broad perspective and busy scenes, thus delivering the features and feel of large-scale creations. As a matter of fact, in most cases, the scenes painters at that time saw were the same, but, to some extent, it was a real test of the mastery and sense of artists. These works of his should undoubtedly be listed in the history of fine arts in New China, as they bear witness to the life in that era and also record the artistic accomplishments of Wen Jinyang as a painter. It may be hard to imagine how much effort Mr. Wen had devoted to both technique theory research and artistic creation. He did basic research, an endeavor full of reason, and at the same time he depicted real life with paintings, something calling for emotion. Shifting between these two starkly contrasting endeavors, demonstrated Mr. Wen's deep belief and full academic passion in art education.
On the 100th anniversary of the birth of Mr. Wen Jinyang, the academy involves the research and exhibition about Mr. Wen Jinyang be part of the"Hundred years of glory: Great master of the Central Academy of Fine Arts" series. Wen Guozhang with his whole family carefully organizing his paintings, manuscripts and materials, working together with CAFAMSchool of Fine Art and the foundation year programme department CAFA Party committee propaganda department,making this vivid exhibition including documents and art works. This endeavor is not just devoted to the memory of Mr. Wen Jinyang, but also offers tremendous academic value as the collection provides valuable materials for studying the life of Wen Jinyang as an artist. Mr. Wen Jinyang'family members donate a number of art works and those although paper color yellow, still lingering manuscripts, all these enriches the artistic accumulation of CAFA, the behavior is really impressive and admirable. What Mr. Wen Jinyang has passed to us is not just his academic legacy but also the commitment of a generation of Chinese artistic scholars to scholarly pursuit. Such academic commitment shines with lasting glory.
Fan Di'an
September,2015
About the exhibition
Title: Hundred years of Glory·Masters of CAFA
"Between Artist and Theorist—In Celebration of the 100th Birthday of Mr. Wen Jinyang"
Organizer: China Central Academy of Fine Arts
Exhibiting Time: Sept 9 (Wednesday)—Oct 7 2015
Opening Time: 14:30, Sept 9 2015
Venue: 4F Exhibition Hall, CAFA Art Museum
Seminar: 15:30—17:30, Sept 9 2015 VIP Hall, CAFA Art Museum
Chief Planner: Fan Di'an
Academic Supervisor: Xu Bing, Sun Jingbo
Exhibition Supporter: Wen Guozhang
Curator: Qin Jianping, Zhang Lujiang, Tang Bin
Assistant Curator: Li Yaochen, Zhao Jing
Exhibition Designer: Yi Yi
Courtesy of the artist and CAFA Art Museum, for further information please visit http://museum.cafa.com.cn/en.
Related posts: