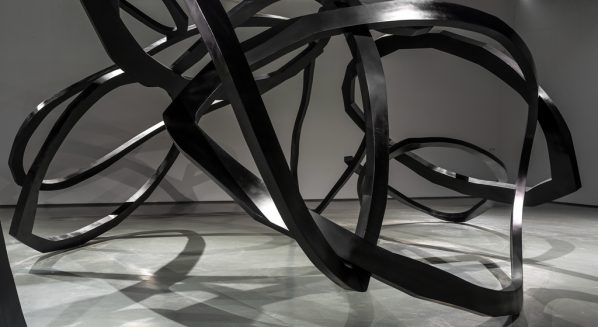 September 10, Zhou Li's solo exhibition entitled "The Ring of Life" was unveiled at the Hive Center of Contemporary Art. This exhibition could be taken as another large-scale presentation of her work since her last solo exhibition "White Shadow" held in Yuz Museum in Shanghai. Curated by Chia Chi Jason Wang, the exhibition shows Zhou's paintings of recent years and her latest installations including the one of 20.6cm in length, width of 8.3cm and height of 5.5m, embodying the changing expression of the artist between easel painting and installation with the visual language of abstract art and lines.
Zhou Li graduated from the Oil Painting Department of Guangzhou Academy of Fine Arts and she has been exposed to many traditional Chinese paintings containing knowledge that has been transmitted by the family. She moved to France in 1994 and she began to use lines in her paintings after she toured, visited and explored Western painting development. Zhou's creations set out from a direct, individual perception and do not follow the reality of spectacle in the phenomenal world. A series of almost illusory loops resemble transparent channels through space and time which call to mind leaping and traversing – here, memory hesitates, turns back, and struggles to let go. In this regard, Zhou Li's art can be seen as a hybrid writing of individual emotion and memory, almost a self-portrait.
The line is the visual core for artist Zhou Li, not just the interception of lines and blocks of structure and color during her early period, the expressive and free lines, or her latest translation from easel lines to "line" installation. Zhou Li's line is emotional, is the mixture of spirit and memory, is the subjective composition without realistic text from her personal intuition. Meanwhile, the presentation of Chinese aesthetics in her abstract painting lines is also a characterization of Zhou Li's art. As the curator Chia Chi Jason Wang said, Zhou Li manipulates the spatial aspects of the artworks while also revealing their temporal aspects. Undefined yet tangible lines grow within a transparent void or tranquil liquid realm, forming waves that converge on high, endless illusory loops drifting through an open, colored yet unnamed space, and coexisting with time.
In the artistic expressions both in China and the West, the lines are an extremely important visual language. In traditional Chinese painting, whether with line drawing or in traditional ink and brush style, lines are embodied in the Oriental aesthetic taste, and it also contains poetic thoughts of poets. Traditional Chinese pay homage to calligraphy and painting that comes from the same source, the lines from calligraphy has injected another "presentation" into Chinese painting; in Western art, the lines have always been the means of constructing outlines and space, along with the rise of self-consciousness in the artistic expression, lines and other independent elements of plastic arts that began to exaggerate their aesthetic value, and open the discussion and exploration of Western abstract art. Oriental cultural genes and influence from the family, as well as the systematic study of the developing context of Western art, have endowed her abstract lines with the dual value of the East and the West, an "expressive" narrative of traditional Chinese painting can be traced in Zhou Li's painting.
Never compromising with reality, Zhou Li follows her consciousness, the depths of an invisible other space to illuminate extraordinary scenes and ponder extraordinary realms. Sometimes, the semblances of familiar landscape scenes or people suddenly emerge in her paintings, at once revealing her traditional roots, while also illuminating the depths of her consciousness, and her perceptions of life. The other things viewers perceive in her works are often beyond the phenomenal realm. The linear time and space she creates is also in a state of persistent flow and transmutation, neither fixing a fleeting moment nor presenting the final view.
Though the forms in her works do not possess the shapes of written characters, they do possess the ability of allusion, which give rise to spiritual associations. Zhou Li's transparent shapes are like membranes. They appear prone to popping, but also possess the ability to embrace, protect and nurture life. These curved, circular or bubble structures resemble arrangements of cells as well as nurturers of organic life, and metaphors for the unending cycle of life. Though not consciously so, when you listen to the inner breath of nature, Zhou Li's individual abstract iconography is quite tangible indeed.
Zhou Li's painting does not have a direct reference, nor is it a composition of rules of geometric elements. Instead it is an expression and growth following no rules, as it is related to her body, her ideology. She transfers the shapes freely, and pours her emotion into her brush, which is closely related to the use of Chinese painting and calligraphy. Although she presents it in the structure of abstract images, it is also reflected in the unique energy and form of Chinese calligraphy, so that her abstract form is different from the Western abstract model. Abstract art was born and developed in the West, how to get rid of the set pattern of formality is the hot topic of Western art, Zhou Li's abstract lines return to purity while they are combined with Chinese aesthetics and have a narrative style, endowed lines with an unique spiritual space. Exactly as Curator Chia Chi Jason Wang has commented: While Zhou Li established the self-discipline forms of "lines", she also explores the spiritual signifier and signified. Chinese abstract art emerged in the 1990s, and it was influenced directly or indirectly by Western abstract art, Zhou Li's artistic practice might provide another means and possibility to think about the direction of Chinese abstract art.
Text by Zhang Wenzhi, translated and edited by Sue/CAFA ART INFO
Photo Courtesy of the artist and Hive Center of Contemporary Art.
Related posts: