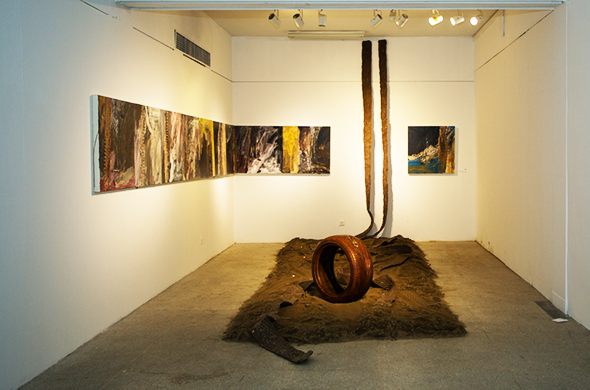 On the morning of July 4th, as an extension and complement to CAFA's 2016 graduation season, "Echo–Exhibition of Excellent Works from CAFA Visiting Scholar Class of 2015", opened in CAFA's education hall. This exhibition is hosted by China Central Academy of Fine Arts (CAFA) and organized by its Training Department. It is also the first exhibition that CAFA has hosted for the visiting scholar graduates to demonstrate and communicate with their learning achievements. This exhibition is intended to comprehensively display not only the various artistic characteristics from visiting scholars countrywide but also the results of CAFA's persistent effort in developing non-degree studies.
Wang Shaojun, CAFA's deputy Party Secretary; Bi Jianxun, the Dean of the College of Continuing Studies; Chen Qi, the executive Vice Dean of CAFA Graduate School; Wang Yingsheng, the Dean of the Department of Heritage Conservation and Restoration; Wang Shujie, the former Dean of the College of Continuing Studies; and Lu Pingchang, Yao Mingjing, Tang Yongli, Zhou Jirong, Zhang Guolong, Xu Ping, the supervisors of the visiting scholars, all attended the opening ceremony of the exhibition. Wu Shoufeng, the Vice Dean of CAFA's College of Continuing Studies, presided over the opening ceremony.
In his opening address, Wang Shaojun introduced the basic background of CAFA's recruitment of visiting scholars. It officially started recruiting visiting scholars in 2004. It has been going on for 12 years, with 70 to 80 people taken annually. In total, with a broad selection of available professions, there have been approximately 800 people who have come to CAFA as visiting scholars. Wang Shaojun also affirmed the visiting scholars' potential for future development, with regard to both the structure of the prospective student body and the presentation of current teaching achievements. Meanwhile, Wang would also like to use this exhibition as an opportunity to conduct further research, so that the teaching space and teaching method could be optimized and CAFA's spirit could be spread across the country via the visiting scholars. Bi Jianxun, the Dean of the College of Continuing Studies, views CAFA's Visiting Scholar Program as a distinctive feature of China's advanced non-degree studies. China's university education can be classified into traditional academic degree education and non-degree education, with academic education serving as the fundamental curriculum that prepares students with the necessary knowledge and skills for college degree completion. However, as the contemporary world we are living in is full of daily explosions of knowledge and information, Bi argues that the traditional academic degree education is far from enough. Bi suggests that, just like a mobile application needs regular updates and patches to make sure it is updated and free of bugs, the non-degree education requires continuous renewal of its knowledge system to keep it always connected to the frontiers of knowledge.
Visiting scholars are not enrolled in the full-time college education. Scholars usually have their own teaching, research and art creation to do. Therefore, CAFA sets the learning and communication objectives for the visiting scholars differently from that of the full-time academic students. Zhang Guolong, the professor from the College of Experimental Art, also as one of the supervisors of the visiting scholars, pointed out that, due to the fact that the visiting scholars only have one-year stay at CAFA, which may make it difficult for individual breakthroughs, scholars should focus more on surveying and learning from each other's experience with art. Nevertheless, visiting scholars may still be able to widen their artistic vision under CAFA's curriculum framework, and bring the newly learned knowledge and skills into their related teaching fields. Fortunately, many supervisors have witnessed the visiting scholars constantly challenging themselves, and in a way, they achieved personal breakthroughs. Hu Yi, the visiting scholar from Class of 2015, admitted that he had a lot of memories of his one-year study at CAFA. Not only has Hu experienced the open and plural teaching method, attended the brilliant lectures given by renowned professors, but also has he made many artist friends. Overall, Hu has learned to appreciate CAFA's motto in a more profound way, "To seek to attain utmost accuracy in the minutest details, while widening the extent of one's knowledge."
The visiting scholars at CAFA mainly come from universities, colleges and art institutes across the country, with rich experiences in art creation, art theories and research. Through going "back" to school, on the one hand, scholars update their knowledge and concepts to facilitate further deepening of their art creation and research, on the other hand, scholars visit also expands academic exchanges between CAFA and its sister schools. CAFA, as the highest art institution in China, is also an active practitioner for the reformation and renovation of art education. Through these visiting scholars, CAFA's pattern could be radiated out around the country, promoting the overall renovation of art education in China. This is the significance of the non-degree education system, as it looks beyond the individual achievements and treats the evolution of art education as an entirety.
Carefully selected by the supervisors after three rounds of examination, the exhibited art pieces are all excellent works from the Visiting Scholar Class of 2015. The exhibition shows that, many artists have attempted to put aside their traditional art experience and their accomplishments achieved in the past and showcase their learning outcomes at CAFA with a brand-new artistic style. The theme of this exhibition is "Echo", as this exhibition serves as a positive feedback to the teaching method at CAFA. In regards to the form of the exhibited pieces, it ranges from contemporary watercolor to mixed-media material representation; from traditional religious murals to modern lyrical Gongbi (meticulous) painting; from easel painting to digital photography, performance art; from woodblock printing to silkscreen printing; from ceramic to installation art. This exhibition covers all artistic forms, which fully embodies the inclusive academic tradition that CAFA has always adhered to. It has successfully presented CAFA as an art academy that is academic, experimental, plural and inclusive at the same time.
Text by Zhang Wenzhi, Photo by Hu Sichen/CAFA ART INFO
Translated by Miao Yinan and edited by Sue/CAFA ART INFO
Related posts: