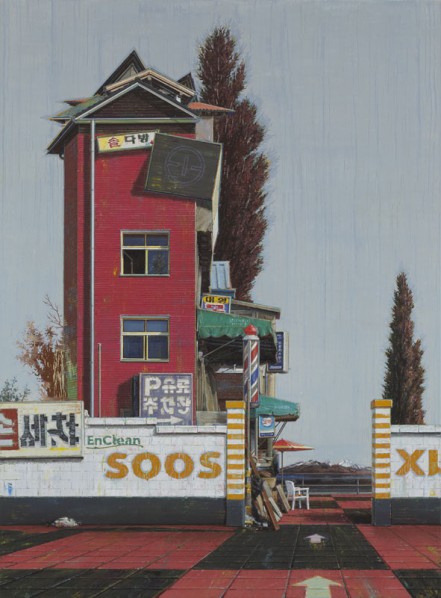 Maik Wolf's new solo exhibition entitled "Exterritory" will take place at Michael Schultz Gallery, Beijing from December 17th through to December 29th, 2011. It showcases his series of Inner Space-Mausoleum which base on his immersion in The Isle of the Dead by the Swiss symbolist painter Arnold Böcklin. However his interpretation is not a simple visual imitation but conveys the same sense of alienation and desolation as the original piece through his portrayal of scenery and symbols.
Maik Wolf always reproduces the realistic and architectural scenery in an unknown age, something from the east, something symbolic as his paintings are full of reality but like fictional scenes. As he stated, "I always question the authenticity of things." Maik Wolf tries to avoid giving an impression that he interprets some revelatory issues, eternal themes or the future world. Screen landscapes and landmarks in the fades background, which is different from any natural landscape we have seen. Through his unique levels of strokes, accurate and amazing colors, Maik Wolf create a fictional space which is both the day and the night. Kerber Publishing Company in Germany recently published a series of his monographs which is titled Exterritory.
The Michael Schultz Gallery is a German gallery with over thirty years history. In 2009 its Chinese branch –Schultz/ Xiuci Contemporary Art Space – was set up in Beijing. "Xiuci" on the one hand is transliterated form "Schultz". On the other hand, the Chinese word "Xiuci" stands for "china", which means both porcelain and the country China. The mission of the gallery is to accelerate the art communications and to establish a healthy and well-ordered art market and to build an international platform for the communication between Chinese contemporary art and the world. The gallery will be committed to digging out and fostering young creative artists from China and abroad. With exhibitions, academic discussions, specialized publications etc. the gallery will dedicate itself to enhancing the influence of contemporary art in China.
Duration: December 17th –29th, 2011
Opening: Dec 17th (Sat), 4PM
Venue: Michael Schultz Gallery, Beijing
Address: 249-3, Caochangdi, Cuigezhuang Village, Chaoyang District
Courtesy of Maik Wolf and Michael Schultz Gallery, for more information please visit http://www.schultz-gallery.com/
Related posts: