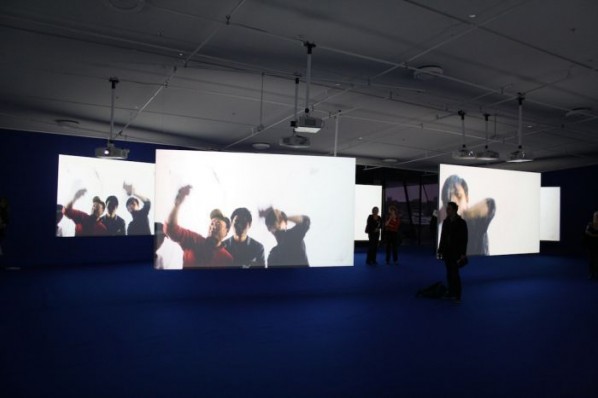 EYE gives cinema free reign with the exhibition Expanded Cinema: Isaac Julien, Fiona Tan, Yang Fudong. The three participating artists break away from the framework of the silver screen and project their work on multiple surfaces, allowing viewers to walk around and watch the films from various angles.
With "Expanded Cinema: Isaac Julien, Fiona Tan, Yang Fudong", EYE demonstrates that film doesn't just belong in the cinema. Since its beginning, film has been known in many forms – from fairground attraction to art film. Artists such as Marcel Duchamp, Fernand Léger and Man Ray discovered in the 1920s that film was an art form that lent itself to extensive experimentation. And starting in the 1960s, many filmmakers and artists transformed film into three-dimensional installations. The EYE exhibit "Expanded Cinema: Isaac Julien, Fiona Tan, Yang Fudong" will also show films in another light. They will be projected onto multiple screens, allowing visitors to walk around the images and see the films from different angles. Watching a film becomes an interactive experience. The visitors determine their own points of view and are challenged to interpret the various facets of the film for themselves.
Each of the works by the three artists brought together by EYE for this exhibit makes use of tried-and-true cinematographic devices, including professional actors (Maggie Cheung, Johan Leysen), beautifully lighted sets, sophisticated camerawork and refined montage. Instead of using these ingredients to make an ordinary feature film for the cinema, however, they have combined them into a multilayered creation. This layered, divided form often fits seamlessly with the content of the films. For example, there's a reason the introverted actors in Yang Fudong's work Fifth Nights are projected onto separate screens: in real life, they are also incapable of making contact with each other.
Lectures and activities
EYE has organised a programme with films and activities as part of this exhibit. Lectures about Yang Fudon and a discussion with Fiona Tan will be followed by films these artists made for the cinema as well as highlights from film history that have inspired them. Additionally, EYE and the Stedelijk Museum have organised an Isaac Julien 'special' that will run from 18 to 22 October which will feature a lecture at the Stedelijk Museum and a number of films screening at EYE.
About the Exhibition
Duration: 28 September through 2 December 2012
Venue: EYE Film Institute Netherlands
Address: IJpromenade 1, 1031KT Amsterdam, The Netherlands
PO Box 37767, 1030 BJ Amsterdam, The Netherlands
Tel: +31(0)20 5891400
Email: info@eyefilm.nl
Courtesy of the artists and EYE Film Institute Netherlands, for further information please visit www.eyefilm.nl.
Related posts: