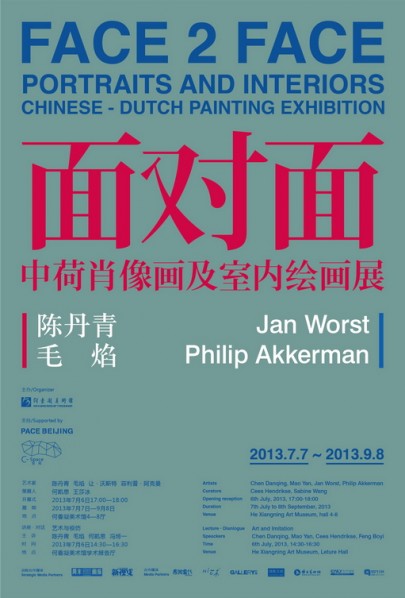 Portraitures and interiors occupy important positions in visual history. For a long time, many artists have tried to capture and render human survival and mental state with the drawing of a human face or the environment. The exhibition presents the works by Chen Danqing and Mao Yan from China, Jan Worst and Philip Akkerman from the Netherlands who, to a certain extent, are mesmerized by the creation themed portraits and interiors.
In the exhibition, one artist has a unique individual approach and style of language. Chen Danqing's portraits are natural realism, whose characterization of the environment and people's language of the body is casual and homogeneous; Jan Worst's characters are lost in the gorgeous interior space, and the combination of the motion picture-like lighting and the relationships between the characters creates a quiet ambiance; Philip Akkerman features his self-portraits from over thirty years, while the faces and identities are constantly interpreted in Realism, Cubism and etc., the formation of a performance of conceptual practical style; Mao Yan repeatedly portrays deeply the same face, choosing to use a single color to perform an exotic model's face, to capture the intrinsic spirit rather than the identity, filled with a faint melancholy.
This exhibition is a unique combination of observation, thinking and performance of the emotional and mental state of the human character, by four artists from China and the Netherlands, to constitute a "face to face" dialogue of the portraits and interiors.
About the exhibition
Organizer: He Xiangning Art Museum
Supported by Pace Beijing, C Space
Curators: Cees Hendrikse, Sabine Wang
Artists: Chen Danqing, Mao Yan, Jan Worst, Philip Akkerman
Opening Reception: July 6, 2013, 17:00 – 18:00 pm
Duration: July 7 – September 8, 2013
Venue: Hall 4 – 8, He Xiangning Art Museum
Lectures • Dialogue: Art and Imitation
Speakers: Chen Danqing, Mao Yan, He Kaisi, Feng Boyi
Time: at 14:30 – 16:30 pm, on July 6, 2013
Venue: Lecture Hall of He Xiangning Art Museum
Courtesy of the Artists and He Xiangning Art Museum, translated by Chen Peihua and edited by Sue/CAFA ART INFO
Related posts: