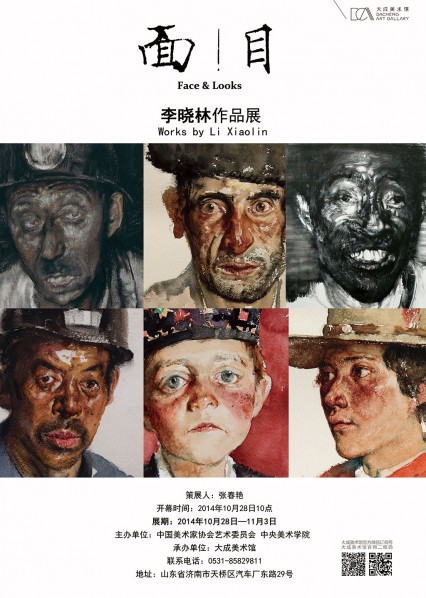 Hosted by China Artists Association Watercolor Art Committee and CAFA, organized by Jinan Dacheng Art Gallery, "Face & Looks: Works by Li Xiaolin" grandly opened at Dacheng Art Gallery on October 28.
The exhibition showcases the well-known painter Li Xiaolin's 126 selected works covering several creative fields, comprehensively showing Li Xiaolin's creative level. The artistic forms of the exhibiting works include print, oil painting, gouache and watercolor; the subjects cover the Miners series, Sketches of Tajik people and Sketches of Tibetan people. These works embody the artist as he pays attention to ordinary people, as well as his awe and love of life.
Li Xiaolin has high prestige in domestic art circles, and he is of a high artistic attainment, his prints, watercolor paintings and pastel paintings all have an unique style in the early years, and his painting language, performance skills and visual impact reach a very high artistic realm. In recent years, he has practiced a lot and this was noticed favourably. The exhibited works reveal his diligent thinking, practice, constant developing artistic features. Although Li Xiaolin's painting is of a realistic significance, he neither borrows paintings for narration, nor simply describes it, so artistic expression and consciousness of the work is very strong. He advocates the performance of the beauty of human nature in painting, conveying the world in people's minds, advocating through painting to express the view and opinion of the real world.
The exhibition will continue to November 3.
About the artist
He graduated from the Department of Printmaking, CAFA, Li Xiaolin currently is the professor of the Department of Printmaking, CAFA, the mentor for postgraduates, Deputy Director of the China Artists Association Watercolor Art Committee. His work won the Gold Prize at the 11th National Art Exhibition, and won Excellent Work Award, Bronze Prize and Silver Prize of the 8th, 10th, 11th, 12th, 13th, 14th, 15th and 16th National Print Exhibitions; Excellent Work Awards of the 6th, 8th, 9th National Art Exhibitions; Bronze Prize of the 7th International Biennial of Print and Drawing, Taiwan; "Liao Xiuping Print Award" and Bronze Prize of the 6th and 7th National Etching, Lithography and Screen Print Exhibition; Award of the 5th National Art Academy Print Teaching Annual Meeting; "Excellent Prize" in Golden Color Award of China Fine Art; "Lu Xun Print Prize" of the China Printmakers Association.
Courtesy of artist Li Xiaolin, translated by Chen Peihua and edited by Sue/CAFA ART INFO.
Related posts: