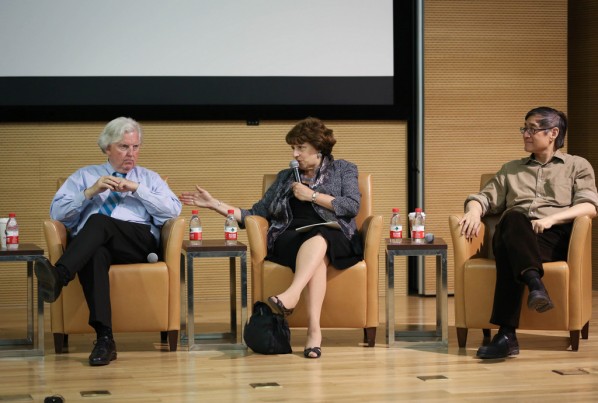 At half past six, on June 20, 2013, "Face to Face with the Presidents of International Academies" was held at the Auditorium of CAFAM, and presided over by Tan Ping, vice president of CAFA, speakers including Pan Gongkai, President of CAFA, Tony Jones, President of the Art Institute of Chicago, USA, Jeff Nesin, Provost of School of Visual Arts in New York, USA, Nancy Uscher, President of Cornish College of the Arts in Seattle, USA , guest speakers and the audience had a broad and in-depth exchange and discussion on teaching and related experiences, in the form of a question and answer session.
Jeff Nesin appreciated and was impressed by the excellent graduation works as well as the exciting exhibition renderings. He said, what made CAFA different from other art institutions in the world was that CAFA had never closed and isolated itself, instead, led by President Pan Gongkai, it sent a lot of students and teachers to exchange and study across the world, which was worth encouraging and studying. Jeff affectionately said: "CAFA is worthy of Pride!" In addition, Jeff also gave a brief introduction to the New York School of Visual Arts: There are currently four thousand three hundred students in the school, among one thousand one hundred graduates in 2013; the division among the disciplines were similar with CAFA, but more focused on the field of cartoon and animation; there were 22 graduate programs, and overseas students accounted for 20% of the students.
Ms. Nancy Uscher said she agreed with the words of Jeff Nesin that CAFA is worthy of Pride! She said the graduation works showed a high level of technology and skill, as well as being full of ideas. The works well reflected the balance of techniques and personal thinking. She also introduced the small Cornish College of the Arts in Seattle, USA , currently more than 800 students, the division among the disciplines of the school included not only art design but also performance design, etc.
In addition, because it was located in Seattle, USA, a creative industry base, the school paid more attention on independent creativity and entrepreneurship of the students, which was revealed in the current graduation works of CAFA.
About the Art Institute of Chicago, Tony Jones said it had a "uniqueness", based on the "interdisciplinary" management model of the school, which didn't require students to have any major, if you asked a student what his/her major was, he/she might answer, "I don't have any major, but I have five sidelines." Jones thought that artists and designers should find their own way through constant exploration in the process of "interdisciplinary" Art. Jones said with a smile: "For this reason, the Art Institute of Chicago is filled with vibrant character and energy, but is also extremely difficult to manage." In addition, Jones said he believed that, rather than a unique top art school, there should be some active and different art schools in the world. We should respect the differences between the institutes, and the "difference" was one of the criteria to judge a good or bad art institute.
Finally, Pan Gongkai expressed his admiration and gratitude to the three deans who had a serious dedicated work attitude during their visit to CAFA. He said, with the help of their extraordinary insight and thinking, many years of experiences in education, as well as the global vision, they would largely help CAFA to develop the education in the future.
Q & A section
Q: What would you take back from the exchange and visit to CAFA?
Jeff Nesin: I will take back two things: firstly, CAFA has very good facilities in software and hardware, worthy of recommendation; it is of profound significance that the leaders of CAFA actively have an in-depth exchange and study with other art schools in the world. Tan Ping, vice president of CAFA had led teachers to our school for the exchange and study, I think it is so rare to take the initiative in the world like CAFA does, as well as "aggressive" discovery of other art schools in the world, this is worth learning.
Nancy Uscher: I have two enlightenments: firstly, the invitation of CAFA to Cornish College of the Arts as they are glad to have joined the "Presidents of International Art Institutes Network", I think it is valuable to have in-depth research into the global art institutions. Secondly we should pay more attention to thinking and being concerned with how to transform the result of the research into daily teaching practice, which is an issue for another discussion.
Tony Jones: Supposing you were a company owner, would you recruit a staff whose capability is stronger than you or weaker than you? In my opinion, if the staff are stronger than him/her, the company would become stronger and mature. At present, CAFA is developing precisely with this attitude, constantly learning makes the academy more powerful.
Q: Could President Tony Jones explain what does a student learn from the stages of undergraduate and postgraduate?
Tony Jones: Our undergraduate program isn't divided into disciplines, basically covering disciplines of basic art and design, to encourage students to freely explore things, to explore their own pursuit of artistic ideas. The overseas students account for 23% of the students, of which there are more than a hundred Chinese students. Compared with the undergraduate, postgraduate courses are more specialized, because the study requires a student to learn in a relatively small field, we place more emphasis on students' self-driven capability. Q: Could President Pan Gongkai talk about how to foster the young teachers of CAFA?
Pan Gongkai: Firstly, on the construction of teachers, the academy not only protects young teachers but also treats them fairly and equitably. In the selection of a teacher's title, we have a very strict democratic system, commonly participating in the selection in an anonymous way. Therefore, teachers understand that it's promising to undertake their teaching well. In addition, the academy offers opportunities to visit and study aboard, including Tan Ping, vice president of the academy who led a delegation of more than 20 teachers, to an in-depth exchange and visit with major art institutions.
Journalist: Yu Ya, Photo: Hu Zhiheng/CAFA ART INFO
Translated by Sophia and edited by Sue/CAFA ART INFO
Related posts: