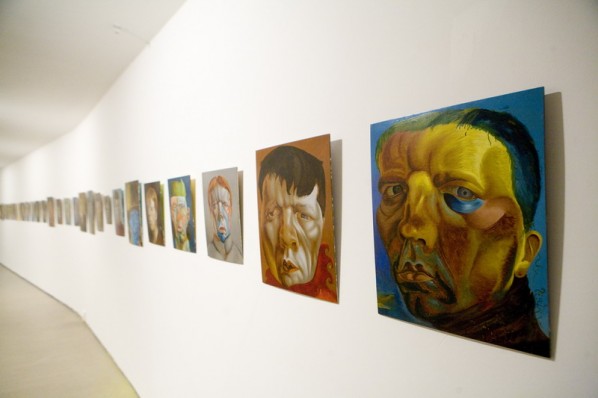 Organized by Today Art Museum, planned by Cee Hendrikse and Sabine Wang, "Face2Face: Portraits and Interiors" Sino-Dutch Group Exhibition opened on the 2nd floor of Building 2, Beijing Today Art Museum, at 16:00pm on March 3, 2013. The exhibition features the works by four artists from China and the Netherlands, including Chen Danqing, Jan Worst, Mao Yan, and Philip Akkerman, rendering again the classical subject in art history: portraits and interiors.
The opening ceremony was presided over by Gao Peng, Deputy Director of Today Art Museum, Patrick de Vries, Cultural Counselor of the Embassy of Netherlands in China, curators Cees Hendrickse and Sabine Wang, artists Chen Danqing, Jan Worst, Mao Yan, and Philip Akkerman, as well as Xie Suzhen, Director of Today Art Museum were invited to attend the opening. Among which, Xie Suzhen, Patrick de Vries, Cees Hendrikse, Philip Akkerman and Chen Danqing addressed to the audience.
Xie Suzhen initially expressed her thanks to the four participating artists and curators for their fabulous show, and she said realism had been prosperous in China for quite a long time, arousing fierce disputes. This exhibition is a good subject for debate, of important significance in contemporary art. It features a series of paintings of portraits and interiors, a traditional subject, which she believes could release more energy, and be perfectly justifiable that contemporary art stems from the tradition. It is a perfect example to provoke our thoughts.
Patrick de Vries, Cultural Counselor of the Embassy of Netherlands in China said, from the exhibition he could see the works by the four artists from China and the Netherlands, who were born at the same time in the 1950s, proving that the two countries were in the same period of social and political movement. However the social problem that one country was directed to, is different from the other one. Although coming from different cultural backgrounds, the four artists have made effective communications through the exhibition, and it was the very art and the group exhibition that helped them understand each other and enhance their friendships. Patrick said, "I hope we can understand each other both in culture and politically."
Curator Cees Hendrikse emphasized, in fact, the subtitle of the exhibition that was "Portraits and Interiors", was misleading for the audience, while the real theme was multi-faceted human emotions. Cees Hendrikse explained this issue with Chen Danqing's works.
Philip Akkerman said that he was very proud to be able to participate in the exhibition together with Jan Worst, Chen Danqing and Mao Yan. In addition, he had prepared a small course for the art students presented as follows: "The exhibition features the works by four artists, who have different colors and grasp of art, different understandings of existence. We are all different from each other, while interior painting is a typical art form for personal expression. Interiors that originate from the Middle Ages and the middle of the Renaissance, while Europeans were liberated from some irresistible power such as churches, and painters who paint not only commissions but also the world of their own fantasies and expectations. In fact, painting is not expensive, and you can begin painting initially in your living room, all you need is a brush and a canvas. This is the answer to the question of why interiors belong to ordinary people. Interiors bring us many incredible feelings with wonderful diverse forms."
Finally, Chen Danqing said that it took him four years to prepare for the exhibition. He expressed his love for Holland and humorously introduced the interactions between him and the Dutch artists.
The exhibition shows the charming practices and techniques used by contemporary artists to explore some themes such as portraits and interiors, helping us to deeply understand how the talented artists of different cultural backgrounds observe humans from a traditional and contemporary perspective.
As a confrontation between two pairs of painters from two different countries and continents, the exhibition can also be of great value in the understanding between different cultures and historical art traditions. The exhibition lasts until March 30, 2013.
Journalist: Gao Sisi/CAFA ART INFO
Translated by Chen Peihua and edited by Sue Wang/CAFA ART INFO
Image Courtesy of the artists and Today Art Museum, for further information please visit Today Art Museum.
Related posts: