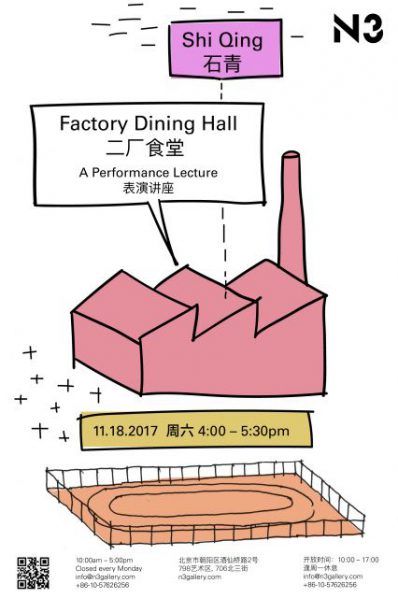 Factory Dining Hall is a one-person theater (onsite narration) and an extension of Radical Space's "Difang work." The work originated in preparatory research done in 2016 at several nationally owned cotton mills in Zhengzhou, Henan province. It focuses its attention on the historicized traces of today: the various fissions and transformations of the collective life that once centered on the factory danwei (unit), before the death of the old socio-economic order. The starting point of the project is a cafeteria, a dining center where organizational relationships unfold. It has now been commercialized and all of the food with regional traits has been replaced. The memories of collective meals shared in years past are now used as a new symbol. In the new processes of urbanization, the worker body and the collective lifestyle methods of the past are marginalized by the consumption patterns of capitalist markets.
Passively inhabiting the new/old spaces, workers search for a way of life and political expression that would belong to them. Though their search may seem hurried and diminished, they carry within them the complex variations of conflicting inter group ideologies, present since the Reform and Opening. Whether riotously or unnoticed, these oppositions continue on. Factory Cafeteria can be seen as ageneralized context, or as a method for discussing the future. "Future" here indicates a possible vision. When everything has calcified into historical narratives, perhaps it is precisely those people and energies that were overlooked which can truly influence future developments. Confusing as this maybe, there's no harm in using the power of imagination to predict what is coming.
About Artist
Shi Qing
Born in 1969. Currently lives and works in Shanghai. Works include many media, such as installations, videos, and performances. His structural work develops in ruptures and repetitions, encompassing his early psychological analyses of actions and later works based on local research in a global context, incidents of daily life, and relationships within the art system. He has also participated in many independently organized artist projects, such as Post-Sense Sensibility, Joint Site, and Top Event. In 2014, he cofounded Radical Space.
About the performance lecture
Date: Nov 18, 2017, 16:00
Venue: N3 Gallery
Courtesy of the artist and N3 Gallery.
Related posts: