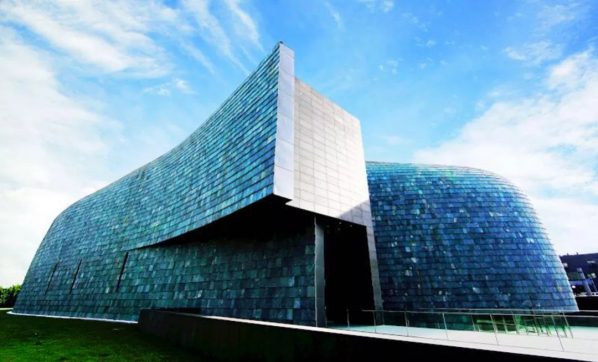 I was so pleased to hear that Mr. Arata Isozaki (distinguished Japanese architect, city planner and theorist) has been selected as the 2019 Laureate of the Pritzker Architecture Prize that I would like to express my sincere congratulations and pay my homage to this respectable friend of CAFA!
Within the international architectural world, Mr. Arata Isozaki is a master of architecture who attaches great importance to academic and scientific contexts while also being full of speculative ideals. He has a deep understanding of the inner development clues of modern architecture, further he has questioned the existing concepts and forms of architectural design with his profound critical thoughts. He uses the architectural design as the "texts" of culture in a social context and he analyzes and elaborates on this from the perspectives of sociology and culture, which sparkles and reflects his sharp and wise thoughts.
During his architectural practice, the constructing state of ideas has been his greatest feature. With his research progressing through space, Arata Isozaki emphasizes on the reasons for finding design concepts from history and culture as well as the process that recognises that architecture is generated as an organism.
His architectural design can be divided into two fields: one of them is constituted by many art museums and Arata Isozaki can be regarded as an architect who takes the credit for the design of a large number of art museums. Moreover, he usually takes local conditions into consideration and thinks originally. He does not retain the continuation of his design but works on innovations of forms, the Art Museum of the Central Academy of Fine Arts is a successful case in point.
Another of his field is his "unfinished" series, the design innovations from his imagination have transcendental and forward-looking attributes, just like exotic and rare trees raised in a whimsical greenhouse, which are unable to find soil to grow. But this "unfinished" project is a research process which is not driven by utilitarianism as Arata Isozaki's academic reputation is established on respectable public praise.
In 2014, I once curated an exhibition entitled "Unfinished" for Mr. Arata Isozaki which toured many cities in China. Now I often think that if an architect just focuses on the "built" of all his designs, he will easily become rigid. Instead, Mr. Arata Isozaki is willing to ponder on his "unfinished" designs while reflecting the meaning of current architecture with "future" consciousness, which contributes to the "establishment" of his many works.
Fan Di'an
President of the Central Academy of Fine Arts
March 2019
---
Translated and edited by Sue/CAFA ART INFO
Related posts: