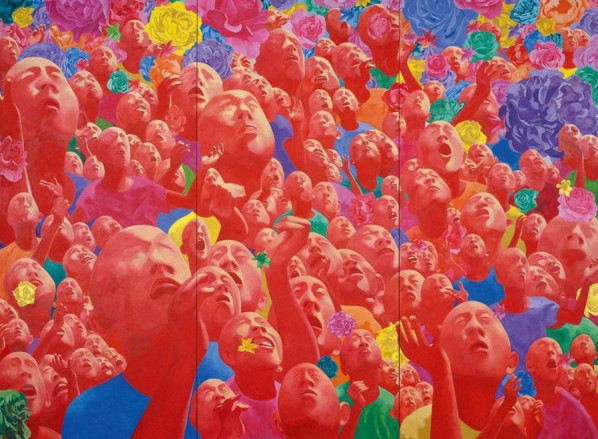 Hosted by MOCA@Loewen in Singapore in association with the Linda Gallery, "Fang Lijun: Documenta" offers a fascinating inside into the career of this important artist and the evolution of his work. The exhibition will be held from 8th March 2012 to 30th April, 2012.
One of China's most influential contemporary artists, Fang Lijun is perhaps best known for his paintings of shaven-headed young men, looking bored, indifferent or disillusioned with the world around them, thereby depicting a post-1989 generation without ambitions and idealism, slightly lost in a 'new' China. A large part of the exhibition is devoted to these works from the late 1980s onwards. Since Mr. Fang Lijun maintains a good collection of his earliest works, hand drawings, photographs and other records of his creative journey in art, he can be said to be the epitome of the spirit of a professional artist in his dedication to documentation. Since the early 1990s, he would meticulously register each sale, and almost perfectly documented records of past exhibitions and collectors, for ease of tracing in the future. This exhibition showcases a systematic selection of the progressive stages in the artist's learning experiences and creation processes, as well as a series of important information, to strongly reflect, how an individual's life is shaped and influenced by the major transformations of the Chinese society, as well as to reflect on how the portrayed specific historical background caused an impact on artistic creations.
Through the artist's sketches and notes, this exhibition presents how over time Mr. Fang Lijun has developed his thoughts and his extraordinary creativity. After examining "documents of his artistic creations", we can better understand in perspective, the special significance of the society the artist was born into, and how he would cast certain moral judgments and ideals under this socio-historical background.
The Museum of Contemporary Art (MOCA@Loewen) aims to bring the public the very best in contemporary art from across the region. Set in the lush surrounds of Loewen Road, the cutting-edge artworks contrast magnificently with the colonial-era building in which they are housed. As the only museum in Singapore devoted entirely to contemporary works, and by hosting continuously changing exhibitions and installations, MOCA@Loewen has positioned itself as one of the most up-to-date sources available on current trends and movements within the Asian art world.
Courtesy of Fang Lijun and MOCA@Loewen in Singapore, for further information please visit www.mocaloewen.org.
Related posts: