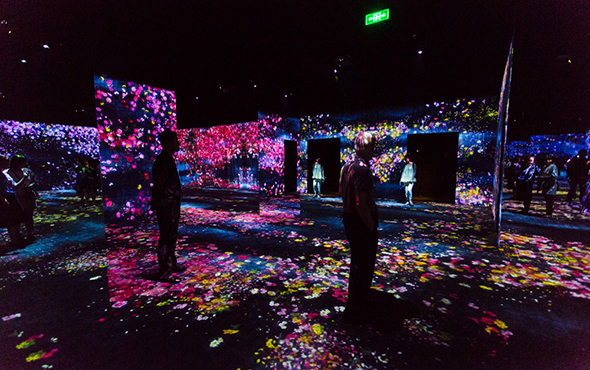 From May 20 to October 10, 2017, "teamLab: Living Digital Forest and Future Park" is presented at Pace Beijing. As the first large solo exhibition by teamLab in China, this exhibition showcases the most well-known representative works by the team, and also it features brand new version of interactive experience specially curated for Chinese audience. Taking use of the complete space of 1500 square meters, it presents a psychedelic world which breaks through the reality.
teamLab (f. 2001, Tokyo, by Toshiyuki Inoko) is an interdisciplinary group whose collaborative practice seeks to navigate the confluence of art, technology, design, and the natural world. Rooted in the traditions of historical Japanese Art, teamLab operates from a distinct sense of spatial reconition that they call Ultrasubjective Space. Their work explores human behavior in the information era and proposes innovative models for societal development.
At its opening at Pace Beijing, the Founder of teamLab Toshiyuki Inoko and Communication Director of teamLab Takashi Kudo attended it and gave their speeches. This exhibition has brought the most symbolic work by teamLab, which is "Flower Forest, Lost and Immersed", and this exhibition produces a completely new updated version for Chinese audience. This virtual sea of fantastic flowers created by computer programs generates real-time interactions with the viewers in the exhibition space. Every move of audience, whether it's gaze in close distance, or touch by hands or footsteps on flowers, will affect the birth, blooming and withering of flowers. On the occasion, each flower created by real-time computing technology will be unique, and once it fades, then it will never be reborn, the moment you encounter with each flower, will be the lucky coincidence of the moment.
The work "Crystal Universe" has been highly acclaimed at Silicon Valley in the United States, Tokyo in Japan, is also presented in Beijing. This unique large-scale interactive installation invites viewers to react by "remote control" with their bodies and smart phones. This universe of light composed of innumerable luminous particles, will change according to the moving objects in this space, human beings as the dynamic variables to change the whole of the space, meanwhile they integrate with the space of enlightenment. Visitors can choose the elements of "universe" via their smarts phones and control the installation, thus to create their own universe.
In this exhibition in Beijing, it also include "teamLab Kids" Children's Art Exhibition. In this "Future Amusement Park", teamLab encourages children to create a unique imaginative space with their own hands, and the figures, animals, plants they paint will be active on the huge screen in front of them, therefore the real-time interactive changes occur between the screen and participants, this makes children experience how the lives on the earth are closed linked with each other in rich and varied ways.
Although it is regarded as one of the most advanced interdisciplinary art groups, teamLab has always believed that technology is not their key element. They believe in the humanitarian care of science and technology and they hope that science and technology could be connected with art to expand human expressions. Their questions for the human existence are always hidden behind their dazzling landscape of technologies, and their artworks are trying to let the people in the city to feel the vitality of life in nature and inspire them to understand their relationship with the world.
Text edited by Lin Jiabin, translated and edited by Sue/CAFA ART INFO
Photo by Yang Yanyuan/CAFA ART INFO and Pace Beijing
Related posts: