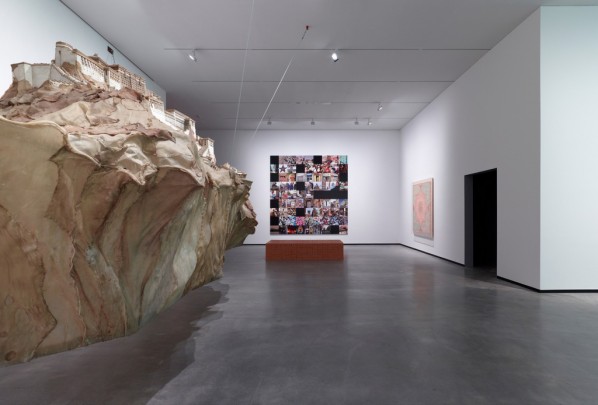 Every Day Matters is a group exhibition of contemporary artists, each of whom has made a mark in an intelligent way with politically and aesthetically surprising works. The exhibition will remain on view at Faurschou Foundation Copenhagen until June 14, 2013.
The participating artists are Adel Abdessemed, Kader Attia, Yto Barrada, David Claerbout, Omer Fast, Shilpa Gupta, Emily Jacir, Christian Lemmerz, Liu Wei, Moataz Nasr, Rivane Neuenschwander, Gabriel Orozco, Damián Ortega and Raqs Media Collective. The exhibition thus represents artists from the Middle East, Europe, South America and Asia.
The artists all take their point of departure in the experiences of everyday life. From their various specific geographical starting points and political, social or religious contexts, their works are a combination of sociopolitical commentary, humorous gesture, poetic reflection and aesthetic strength.
The title of the exhibition, Every Day Matters, forms the framework for works that play against the fundamental existential condition that every day is important, and that reality has forced its way in as an artistic necessity. In areas with political unrest or other socioeconomic challenges to human conditions of existence, art is often influenced by these circumstances.
Everywhere our lives are subject to global complexities and conflicts, the pressure and noise of events, information and images, history and memory. We navigate through these structures in our 'everyday life', or almost drown in them.
The works of the artists represented here can be seen as a standstill in this stream; their works can be regarded as specific materializations of the world we live in.
ln his book The Practice of Everyday Life (1980) Michel de Certeau described the possibility that people through their daily practices can do something each day that is not institutionally planned, such that there is a daily resistance to the power regimes.
Following this way of thinking the works of the artists can thus also be used as a starting point for the elucidation of the social function of art, facilitating a gaze at our past, present and not least our future through their stance on various conflict-filled realities.
Several of the works included in Every Day Matters are made of everyday materials. Some of the artists use objects, which point to something familiar. With their wear and materiality the works can help to spur memories from the personal and the collective memory.
The works in Every Day Matters represent exploration and reflection by stopping and taking hold of something from the day, from history or from memory. Thus we can see the struggles of everyday life maintained, the repressed and marginalized given space, the fine and ephemeral perpetuated, stopped in the flow of time, given form in eye- opening and thought-provoking works that remind us that every day matters.
About FAURSCHOU FOUNDATION
Faurschou Foundation is a privately funded art institution in Copenhagen and Beijing established by Luise and Jens Faurschou. For 25 years they have mounted exhibitions of internationally recognized artists both in Denmark and abroad. Over the years Luise and Jens Faurschou have acquired a substantial art collection and their ambition is to present highly esteemed contemporary art to the public – out of a belief in the potential of art to create meaning for the self-understanding and development of the individual as well as society. Both exhibition spaces are free and open to the public.
Courtesy of the artists and Faurschou Foundation, for further information please visit http://faurschou.com.
Related posts: