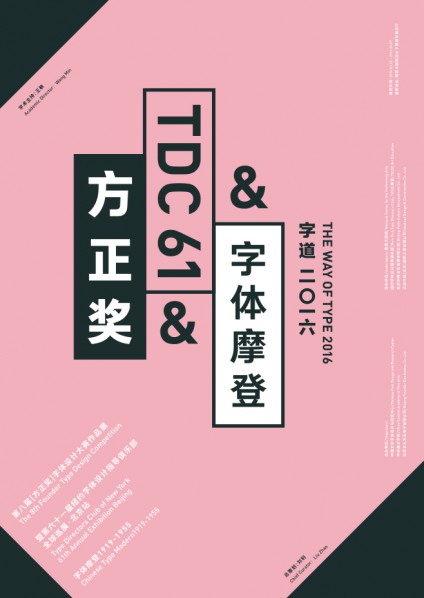 On March 25th, a visual feast of type design full of wit and humor will be unveiled at the National Centre for Performing Arts. This design exhibition of "The Way of Type 2016" is co-organized by Chinese Type Design and Research Center, China Central Academy of Fine Arts (abbr. CAFA) and Beijing Founder Electronics Co., Ltd. With the Type Directors Club of New York (abbr. TDC) and other institutions as its undertakers, the exhibition encompasses nearly 200 ancient and modern designs, which is esteemed as an encyclopedic presentation of type design. The exhibition invited Prof. Wang Min, Dean of CAFA School of Design as its academic director and Ms. Liu Zhao, Deputy Director of Chinese Characters and Arts Research Center at China Central Academy of Fine Arts as well as National Representative of China for Association Typographique Internationale (abbr. ATypl) to serve as its general mastermind.
Type Design initiates the beauty of vision
How to write words, whether in modern or ancient times, in China or elsewhere, has always been an art. Chinese characters have a distant origin and long-standing development, being rich in variety and endowed with extensive profound meaning, their type of structures have undergone continuous creations and improvements over thousands of years, from pictographic characters, oracle bones, inscriptions to official scripts, regular scripts, cursive writing, Song typeface and so on, as Western Latin alphabet has its Roman type, Gothic type and italics.
It can be said that, characters as graphic symbols to record languages, in addition to their ideographic characteristics, their own way of writing, permutation and combination constitute a unique visual language. If you thumb through books close at hand, neatly arranged rows of characters will bring a wonderful experience of reading to you by themselves, thus making you embark on a pleasant journey of reading; when you turn on the computer and browse information online, the differences in type and typography, are able to present various styles of web design, and bring about diversified visual experiences.
Type design therefore is the outcome of human production and practice and it gradually turns mature along with the development of human civilization. The industry of type design has become creative work, exactly as artworks of painting, music and film, which condense the crystallization of human wisdom.
As the curatorial team said, "Being a communicative tool, the morphology of characters, especially the forms of typographic types, received less attention from the audience during the process of dissemination, thus with the exhibition of "The Way of Type 2016" we hope the audience will rediscover the characters we come in contact with every day, to find their beauty, to experience the ingenuity of type designers, to experience the culture and history they carry.
Unification of the Three Exhibitions impenetrate the ancient and modern times, China or elsewhere
It is particularly worth mentioning, "The Way of Type 2016" concentrates on three world-class works in the field of visual type: The 8th Founder Type Design Competition, Chinese Type Modern 1919-1955 and Type Directors Club of New York 61th Annual Exhibition in Beijing (abbr. TDC61).
These three themed exhibitions revolve around the visual forms of characters, but their contents have various stresses on space-time and region. "The 8th Founder Type Design Competition" presents the rich type shapes portrayed by contemporary type designers, which reflects the standards of current Chinese type design; "Chinese Type Modern 1919-1955" renders the splendid chapter of Chinese characters application which was usually overlooked in the first half of the last century; while "Type Directors Club of New York 61th Annual Exhibition in Beijing" brings about the essence of international type design thousands of miles away, which represents the highest level of Western type design. There are exhibits from the ancient and modern times, from China or elsewhere in the world, so that the exhibition is intended to create a professional grand meeting of type design industry.
Besides, at the end of its opening ceremony, two significant professional forums will be held: "The Way of Type 2016: Design Forums on Chinese and English Types", internationally renowned experts of type design including: President of ATypl Association José Scaglione, Vice President of ATypl Association Gerry Leonidas, Deputy Director of Public Art School of China National Academy of Painting Chen Shaohua, President of Robundo Publishing Inc. Jiro KATASHIO, type design expert Guo Bingquan, Design Director of Business Department FROM Founder Electronics Co., Ltd. Qiu Yin will jointly attend and they will discuss and communicate with each other around "type design". They make friends by "characters" to jointly promote the development of type design in this new era. Meanwhile, during the exhibition, the organizers will plan a special Latin Type Design Workshop, with Professor Gerry Leonidas as the tutor. Also at the exhibition there are another 14 workshops for children, the designer introduces the developing context of type design thus opening a window of type design for children.
It is reported that "The Way of Type 2016" will remain on view through to April 7. You just need a visiting ticket, and you can enjoy the visual feast at close range and experience the exquisite excellence of type design!
Annex: Introductions to the Three Themed Exhibitions
TDC61 Type Directors Club of New York (NY TDC) was founded in 1946, and New York TDC Type Competition was the first competition worldwide that featured type design, and it is also one of the most important graphic design competitions in the world, its award-winning exhibition is an annual activity with great fame and professionalism. In the current days of cultural renaissance, it is indeed necessary to regularly introduce the most internationally important character exhibitions to China, to strengthen the communications of type design between China and the world. China Central Academy of Fine Arts officially introduced TDC60 to China in 2015, and it has attracted widespread attention. This time TDC61 is going to be held in the National Centre for Performing Arts and hopefully it will enhance the social attention and public awareness of type design.
"Founder Award" Type Design Competition Exhibition, which is organized by China's largest manufacturers of character database, Beijing Founder Electronics Co., Ltd. Since June of 2001, after the accumulation of over ten years, it has become the largest, most outstanding, influential and appealing design competition and it has witnessed the development of Chinese contemporary type design, also it has contributed a lot to the exploration of Chinese character industry, cultivation of excellent design talents, as well as the promotion and improvement of the overall industry. This time The 8th Founder Type Design Competition will be divided into two parts, one includes the previous awarded works; the other part includes the historical information display of the Founder type database.
Chinese Type Modern 1919-1955 centers around the type monographs published in China between 1919 and 1955, the exhibition reorganizes and looks for the changes and achievements that happened to Chinese modern type design during these over 30 years from the perspective of "Type Book". Because a "Type Book" is equivalent to a "Painting Manual", and it is the quintessence of predecessors' achievements, and it is also the model for beginners, thus it is extremely important for research on type design. This exhibition intends to prompt some previous existence and we hope the "past" of these type design will return to the "future", or at least partly return to the "future". We cannot do without the cultural context in Chinese type design.
Type Directors Club of New York 61th Annual Exhibition in Beijing (abbr. TDC61)
Curator: Liu Zhao
Chinese Type Modern: Rediscovery of Chinese Modern Type Design Curators: Zhou Bo and Wu Fan
The 8th Founder Type Design Competition
Curator: Liu Zhao
Exhibition Designers: Zhang Yazhou, Huang Shu
Courtesy of Chinese Type Design and Research Center, China Central Academy of Fine Arts, translated and edited by Sue/CAFA ART INFO
Related posts: