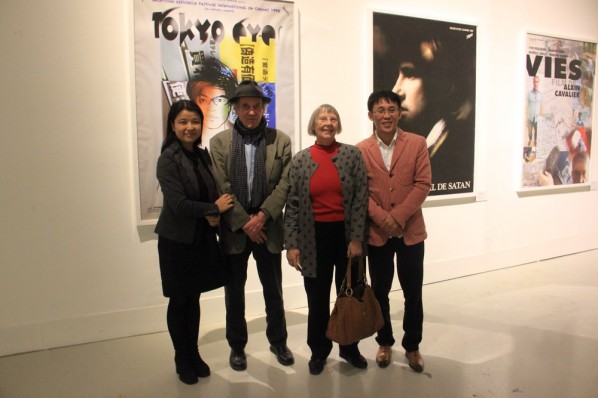 Hosted by the Department of Public Education and Development at the Art Museum of Central Academy of Fine Arts, Film Posters by Benjamin Baltimore and "Cinéastes de notre temps (Filmmakers of Our Times)": 30 Documentary Screenings Festival held its opening ceremony at the lecture hall of CAFA Art Museum at 4pm October 28th, 2012.
"John Cassavetes", as the opening film, led the audience insight into the world of this film master. Then a dialogue meeting presided over by Ren Rui, a teacher from the Department of Public Education, CAFA and Tong Xiaofeng, Associated Professor of the Department of Filmmaking of CAFA, invited as an academic guest, had a in-depth dialogue with Benjamin Baltimore, outstanding film posters designer from France, André S. Labarthe, an editor of the French magazine "Film Manual", and Ms. Danielle Anezin, a famous film editor from France.
Firstly, Mr.Tong Xiaofeng briefly introduced John Cassavetes. One part of the documentary is an interview with John Cassavetes, another part is the introduction of some film clips of Cassavetes' films, because most of the film uses the same shooting style, it's hard to tell the difference between these two parts. Tong Xiaofeng asked Andre Labarthe what did he think when he was shooting the film. Andre Labarthe explained that it was an accidental idea to introduce Cassavetes' film clips into the documentary. During the shoot, not only the voice of Cassavetes could be heard, but we could also hear the soundtrack of a film Cassavetes shot. It's undeniable that the documentary has been unconsciously affected in this process. Ms Lahnerzan thought that a filmmaker would naturally introduce another filmmakers' films into his own creation when he was shooting others, especially when he respected the filmmakers, his work would be naturally affected by the style of the latter. But she emphasized that it was not imitation, but an interlinking breath. Then Andre Labarthe talked about high sensitivity films and the development of film technology as providing a greater possibility for his film making, no longer confined to the film studio. Tong Xiaofeng concluded that, "The aesthetics and language of Film change and develop along with the change and development of film technology. "
After that, Tong Xiaofeng conversed with Benjamin Baltimore, the protagonist of this exhibition of film posters. Since 1984, Benjamin Baltimore began to cooperate with international famous filmmakers, designing film posters for them, including Jacques Audiard, Antonioni, Bergman, Chabrol, Godard, Eric Rohmer, Greenaway, Takeshi Kitano, Akira Kurosawa, Hayao Miyazaki, Spike Lee, Sidney Lumet, David Lynch, Louis Malle, Oliveira, Rivette, Alain Resnais, Pialat, Lars Von Trier, Chen Kaige. And includes most directors of "Cinéastes de notre temps(Filmmakers of Our Times)" . The style of each film poster is different to each other, and he gives great respect for a director's style, talking about the production and style of a poster, he thought the style of a film poster wasn't only the style of a film, but also other minutiae parts like how to capture a scene, would affect making a film poster to illustrate a film. At the same time, he explained the difference of painting and shooting a picture, painting was of much more humanity than shooting, and it was impossible to avoid light and other natural objective factors in shooting. The change of media changes the visual concept of modern people. Benjamin Baltimore Film Posters exhibits 30 original posters in total he brought from France at the Art Museum of CAFA. The exhibition will last until November 4th, 2012.
Pictures/Text by Sun Zheng
Related posts: