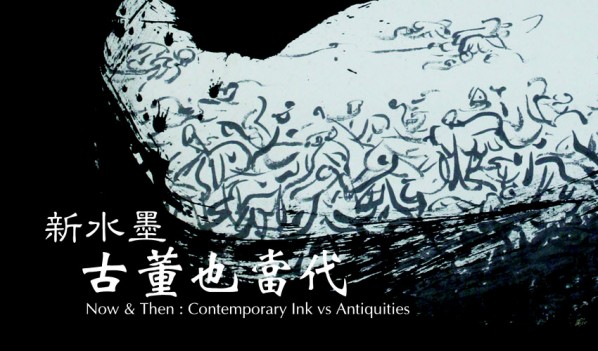 Contemporary Ink's inception was amid from the 50's to the 60's. During the conventional era, pioneer artists such as Lu ShouKun, Liu KuoSung and Xu Bing, boldly attempt to combine the eastern technique with the method of the west. In today's art scene, such approach has become an influential style of its own throughout the world.
In view of the growing interests in Contemporary Ink Art in recent years, Lucie Chang Fine Arts and The Fringe Club will present 19 artists from Hong Kong, and the Mainland who are at the forefront of the practices in this exhibition entitled Now and Then: Contemporary Ink vs Antiquities.
Hung Keung, Frog King, Kum Chi Keung, Lee Jung Woong, Joey Leung, Li Hui, Liu Dan, Master of the Water, Pine and Stone Retreat Annysa Ng, Qin Feng, Qiu Zhi Jie, Tsang Chui Mei, Wang Sau Ching, Wong Shu Kit, Xiang Yang, Xu Bing, Xu Lei, Zhang Huan and Zhou Chunya will be participating in this exquisite event. These 19 artists coming from different backgrounds, regions and styles will be showing their latest works which include paintings, multi-media and installation art. The contemporary works on show is set against a backdrop of timeless Song and Ming antique pieces. This setting creates an intricate interplay of the ancient in present conditions and vice versa.
This is also the first attempt for Contemporary Ink paintings to exhibit conjointly with museum-quality antiques in Hong Kong. This show takes place in the Fringe Club which was originally the first ice depot more than a hundred years ago in old Hong Kong. This historical under-layer adds more complexities from the viewer's perspective.
Part of the proceeds from the sale of artworks in this event will be donated to Children's Medical Foundation, one of the leading charity organizations who develop and implements sustainable healthcare solutions for children in Asia, with a focus on helping underprivileged children.
Lucie Chang Fine Arts
Lucie Chang Fine Arts was established in 2011, based in Hong Kong, sincerely provide worldwide collectors and art lovers with different kinds of antiques and art pieces. Lucie Chang Fine Arts also provides services such as professional art consultation, art trading and exhibition planning.
The Fringe Club
In the 30 years since established, the Fringe Club has become a vibrant contemporary arts space where artists create and show their work, and those who enjoy the arts come to meet and see shows. Facilities for exhibitions and performances here are offered rent-free to both emerging and professional artist in Hong Kong and from overseas. Up till now, the Fringe Club has presented 28 festivals. It has arranged 62 tours in 15 cities, hosted 67 residencies, and held 1,400 exhibitions, 3,230 community outreach events, 1900 live-music shows, 8150 stage performances and numerous overseas presentations, most recently at the Shanghai Expo 2010 and the 54th Venice Biennale 2011.
About the exhibition
Duration: 2-12 Oct 2013
Venue: Anita Chan Lai-ling Gallery, Fringe Club
Organizers: Lucie Chang Fine Arts, The Fringe Club
Curators: Lucie Chang Yue, Benny Chia
Antiques: Song Ceramics, Ming Qing Ceramics, Buddhist Sculpture, Ming Calligraphy and other Works of Art
Opening Hours: 12:00-22:00 Mon-Sat
Tel: 852-25217251
Add: 2 Lower Albert Road, Central, Hong Kong
Courtesy of Lucie Chang Fine Arts and The Fringe Club, for further information please visit www.hkfringe.com.hk.
Related posts: