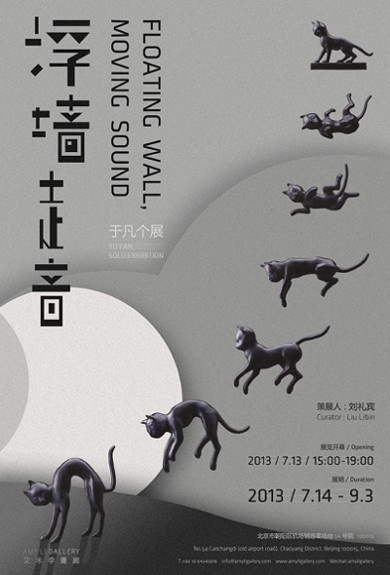 The main difference of "Sculpture" as an art form from other artistic expressions is that: the sculptor reflects and creates on the basis of "physical form", and the public sees it and perceives it on that same basis. The reality and fiction are two extremities of the "physical form", and behind that lies the fascination of Yu Fan for extremities. If we consider "volume" as a straight line, reality and void are each at one end of that line. Take one point on that line, apply a rotation, and the two extremities are bound in a circle. Several "straight lines" then make a round surface, and that is three dimensional Yu Fan. These many lines could be internal questions about the art of sculpture, They could also be clues to Yu Fan's life, like career, ideals, etc. Each of these lines has two ends, the combination of which forms the borderline of the round surface. Yu Fan has a special predilection for this, and he touches it lightly, carefully. This "light and careful touch" is related to the atmosphere of vigor or pounding, sensitivity or morbidity that transcends his works.
Relief sculptures represent a large proportion of Yu Fan's works, and in this exhibition four works have been selected: Arthur in uniform, Leifeng Pagoda and Lily, Black Cats and Sitting Girls. One can say that the first two still exudes the familiar characteristic of Yu Fan – namely freshness and purity, Black Cats and Sitting Girls materialize Yu Fan's perspective, "Black Cat" shows a cat on a pedestal, and fixes seven positions of the cat falling to the ground. Chinese people believe that black cats can chase away evil spirits and sent them down South, making generations safe. But the fall of Yu Fan's black cat, its fear of falling, makes it seem closer to the Western interpretation. Sitting Girls is composed by 16 girls' relief sculptures. These girls are fashionably dressed, and are all in a reserved but desiring position, seemingly eager for something, to a certain extent, however keeping it in unspoken modesty. This again reminds me of Yu Fan "light and careful touch" towards the circumference. There are another two sculptures in this exhibition: Crane No.1 and Crane No.2. One is looking down, the other up, which corresponds precisely to what I was mentioning above, the reality and the void.
Place Yu Fan's works in an exhibition hall, and not only the relief sculptures will float, so will the walls; not only will you hear the sounds of nature, very clearly, these sounds will begin to move.
Yu Fan, the impact of China's future direction of the important figures of the sculpture. born in Qingdao, Shandong, province in 1966,Master. Deputy director and Associate professor of Sculpture Department of Central Academy of Fine Art. Currently works and lives in Beijing. His works have participated in important exhibitions at home and abroad as well as large art fairs, many works by important art institutions and foreign collections.
About the exhibition
Curator: Liu Libin
Duration: 14 July – 3 September, 2013
Opening: 15:00-19:00, 13 July
Venue: Amy Li Gallery
Opening Hours: Tue-Sun 10:00-18:00
Tel: 010-64340616
Add: No.54 Caochangdi(old airport road), Chaoyang District, Beijing
Courtesy of the artist and Amy Li Gallery, for further information please visit amyligallery.com.
Related posts: