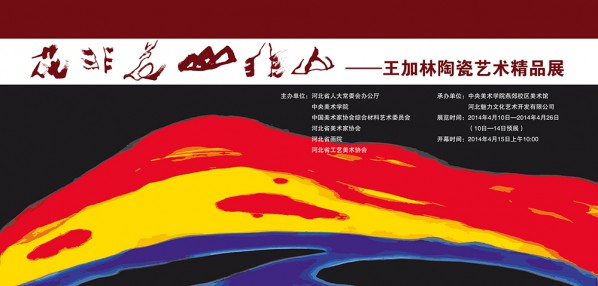 "Mountain Not Mountain" and "Flower Not Flower" is fundamentally a philosophical proposition. I know that "mountain not mountain" doesn't mean that a mountain is not a mountain, while "flower not flower" doesn't mean that a flower is not a flower any more. In Chinese painting there is a very classic saying: "Learning the shape of the nature and you gain the heart source", meaning that artists should gain a kind of spirit from natural life and then go back to the land of their heart, sowing the seed, and harvesting fruit. "Heart source" is a kind of thought, meaning that "mind" is the source for the creation of art, this is the fundamental principle of art, the start of art, going from the inside to the outside, Jialin says, "mountain not mountain" and "flower not flower" means that he paints the mountain and flower which isn't the mountain and flower in his vision, but the spiritual materialized mountain flowers in full bloom, a kind of advocating spirit, a sincere emotion, this is a kind of praise of beauty.
It is necessary for an artist to have three kinds of powers: It's firstly the power of culture, secondly the power of language, thirdly the power of skill. Wang Jialin is very careful to cultivate himself in the three kinds of powers, while "mountain not mountain""flower not flower" is the most gratifying achievement in the practice of his power of cultural knowledge. The "Yin and Yang" in the Chinese book the "I Ching", "with and without" in the "Tao Te Ching", the "qi and blood" in "Huangdi Neijing", are all the most fundamental acknowledgment of the life of humans and nature. I think Wang Jialin integrates the life of humans, nature, art, culture to set up his philosophical thinking of art with the most vitality. Thus, he is unlocked, free, comfortable, so he gets his initiative to create art. Gaining the first power of culture, he will gradually develop the powers of language and skill. This is the future of Wang Jialin's art.
– Zhao Guide (Director of China Artists Association)
About Wang Jialin:
Born in Fengrun, Hebei Province in 1945, Wang Jialin is a member of China Artists Association, member of China Calligraphers Association, Honorary Chairman of Hebei Province Artists Association, Honorary Director of the Hebei Province Association of Craft Art, Honorary Principal of Tangshan Ceramic Institute, and former deputy director of the National People's Congress in Hebei Province. His publications include: "Coziness Ceramic – Selection of Wang Jialin's Ceramic Artistic Creation", "Selected Works of Ceramic Artistic Creation by A Hundred Painters", "Chinese Painting and Calligraphy Art", "A Hundred Poems", "The Echo of Life".
About the exhibition:
Duration: April 10 – April 26, 2014, (preview April 10 – April 14)
Opening: at 10:00 on April 15, 2014
Academic Discussion: at 10:30 on April 15, 2014
Venue: Art Museum of Yanjiao campus of CAFA (No.18 Yanshun Road, Sanhe Yanjiao Development Zone, Hebei Province)
Courtesy of the artist, translated by ChenPeihua and edited by Sue/CAFA ART INFO.
Related posts: