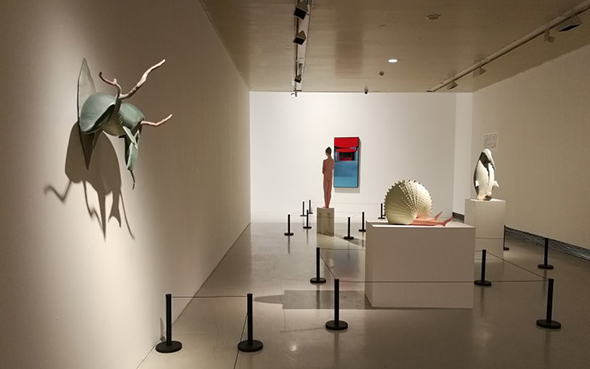 The graduation creation by the graduates of the Central Academy of Fine Arts has been condensed into this exhibition after more than four years of exploration and it is often a key node for the artistic career of the artists, as well as the female parent as they repeatedly ponder or breaking into the future.
It is a tradition that CAFA has been collecting outstanding graduation creations since the school was established, from which people can see the developmental trajectory of the education system of the academy, and also offers a glimpse of the creative origins of the artists at different stages. Along with the completion of the new museum of CAFA in 2008, the art museum systematically expands the scale of the collection under the guidance of the academy, with the collections of the graduation creations being composed of nearly 600 pieces from the past nine years.
Among the collections of new graduation creations of the past 9 years, part of the works have been well-known during that time, and many artists are concerned with the contemporary art field during recent years because their personal styles are increasingly distinctive, or because they refuse to be confined by the media and subject matter, adhering to the self in the exploration of "innovation".
We try to display the graduate collection of the eleven young artists who are active in the present art world through a discussion about their recent works, and hope to offer a new perspective of "following the growth". It spans five years for the eleven sets of works on average, there's a part reflects a sense of the evolution process, and there's also a part has produced a greater change in the style and media, even though part retains a similar style and theme, it gives birth to different meanings with a few years of social contextual adaptation. For the young artists participating in the exhibition, it hopes that this time-crossing dialogue allows them to look back at the original intention of the creation at that time, while examining the present self; for the spectators, on the one hand, it can find the possibility of the future from the footsteps of the artist's growth, on the other hand, this exploration also brings thoughts on what influences the growth of young artists. Furthermore, the museum acts as a bearer, the graduate collection is not only to retain the work, but also to treasure the budding thoughts at that moment. While witnessing a group of young artists who have started from this place, the art museum has gradually grown into an important participant in young art.
We still remember that many young artists made a figure in the lively graduation exhibition one month ago. We wish the previous outstanding students do not forget the original intention of the graduation creations, remembering that Rome was not built in a day.
Text by Gao Gao, Li Yaochen and Liu Xiyan/CAFA Art Museum
Translated by Chen Peihua and edited by Sue/CAFA ART INFO
Photo by the organizer
About the Exhibition
Title: "Following Growth: The CAFA Art Museum Graduate Collection and Recent Works"
Duration: July 5 – August 27, 2017
Venue: Gallery 2A, 3A, CAFA Art Museum
Host: CAFA Art Museum
Academic Advisor: Wang Chunchen
Curators: Gao Gao, Li Yaochen, Liu Xiyan
Artists: Chi Qun, Gao Rong, He Pengqi, Liu Haichen, Li Hongbo, Li Xiaofei, Pan Lin, Su Chi, Wen Yipei, Zhou Dong
Related posts: