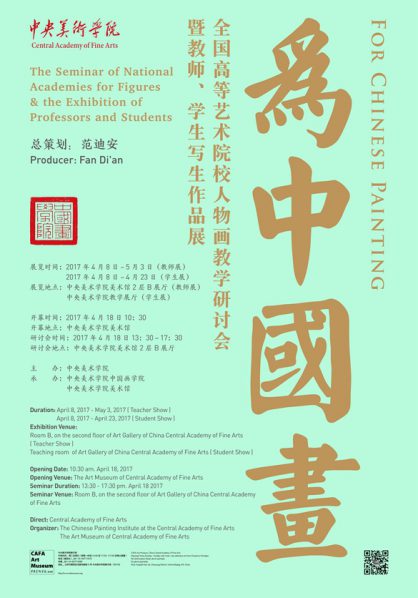 The exhibition invited 28 colleges and universities of art to share the event, to present nearly 200 works on figures submitted by 107 in-service teachers and 90 students. It will launch an open teaching seminar at the exhibition site on the opening day. The exhibition invited a wide range of art institutions to display a large number of sketches, aimed at showing the audience the current development and achievements of the Chinese figure painting in the universities and colleges and for an in-depth exchange on the future development of teaching.
The holding of the exhibition and seminar will impact on the development of the specialty in Chinese figure painting across the country in the future, which plays an impellent role in the heritage of the previous academic context of the School of Chinese painting at CAFA, and the strengthening of academic exchange and maintaining of their own discipline advantage in the new era. At the same time, it has a positive and important impact on CAFA's "Hundred Years of Glory", promoting CAFA to create a domestic first-class, leading international academic academy.
In line with the exhibition, it will also publish and issue the book of "For Chinese Painting – Sketch Works and Teaching Documentary of National Academies of Figure Painting".
About the exhibition
Producer: Fan Di'an
Duration: April 8, 2017 – May 3, 2017 (Teacher Show)
April 8, 2017 – May 23, 2017 (Student Show)
Exhibition Venue: Room B, on the second floor of CAFA Art Museum (Teacher Show); Teaching Exhibition Hall at CAFA (Student Show)
Opening Date: 10:30 am, April 18, 2017
Opening Venue: CAFA Art Museum
Seminar Duration: 13:30 – 17:30 pm, April 18, 2017
Seminar Venue: Room B, on the second floor of CAFA Art Museum
Direct: CAFA
Organizer: The School of Chinese Painting at CAFA, CAFA Art Museum
Text by the School of Chinese Painting at CAFA, CAFA Art Museum, translated by Chen Peihua and edited by Sue/CAFA ART INFO
Related posts: