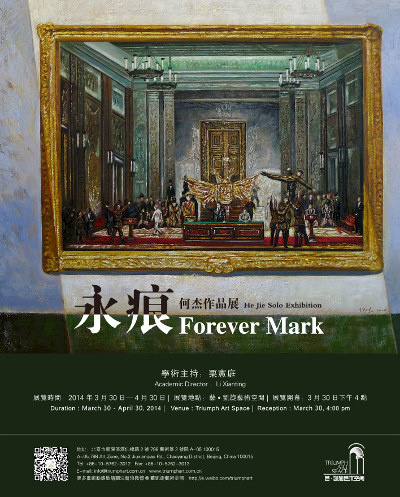 The exhibition intends to display the newest series of He Jie's artworks. The most outstanding approach of series is the dramatization and stage of ideological scene that leads to a metaphorical link between recollective episodes and present truth.
He Jie's artworks always have connection with memories, especially public events in the history. Through expressing image of memory, he explored the metaphor between the image and reality. Among those public architectural series in his earlier times, the large-scaled paintings with the images of buildings, the parterre and trees, were been established to be doughty and merciless; owning to the crude brushwork, the heavy pigment and dark color, which makes paintings reveal an overbearing atmosphere. I guess that it was first time for He to come to Shenyang, an industrial city in the north of China for studying and living. The great amount of and huge buildings must bring him a visual shock strongly, because He might get used to live in an environment with magnificent and beautiful surroundings. Or he just displayed his sensation of overbearingness of "Heroism" and "Collectivism" via ideological architecture. In 2012, He transferred his artistic topic to personal experience. The artist created an over-loaded and turbulent impression by living memory, the imagination of past and future, and the relationship between floating fact and the vision of future. Nevertheless, the topic returned back to the performance of public events memory.
About the artist
He Jie
1976, Born in Changde in Hunan, China. 2000, BFA in Painting from Luxun Academy of Fine Arts. Teaching in High School of Luxun Academy of Fine Arts 2005. MFA from Luxun Academy of Fine Arts, Shenyang, China. Present, Working in Beijing, China.
About the exhibition
Duration: March 30st-April 30th, 2014
Venue: Triumph Art Space
Opening: March 30, 2014 16:00
Tel: 010-57623012
Add: A05, 798 Art Zone, No.2 Jiuxianqiao Road, Chaoyang District, Beijing
Courtesy of the artist and Triump Art Space.
Related posts: