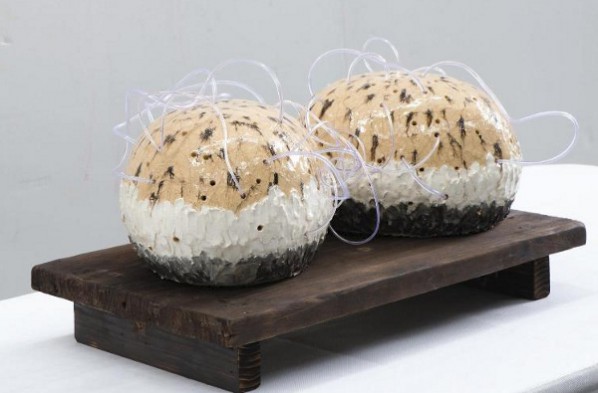 The exhibition, showcasing the latest creations by 26 Macao sculptors, comprehensively displays the current development of Macao sculpture and promotes such art.
Macao's sculpture art is closely related to the city's social evolution, having played an important role for centuries in the cultural and artistic interplay between East and West, with the opening up of the enclave as a trading port in the Qing Dynasty being a turning point. With the continued improvement in people's livelihoods and the sustained development of folk traditions, and celebratory works related to politics and religion, sculpture art started to become popular and flourished in Macao, mostly in the form of functional and representative sculptural pieces. This explains why Macao people are no stranger to sculpture, although not paying much attention to it. Therefore we can say that sculpture has a very unique stance in Macao.
Macao contemporary sculpture art evolved gradually in the 1980s, from purely practical to become more artistic and conceptual. At the same time, sculptors tried different approaches to bring about changes. However, under specific constrains, sculpture developed very slowly compared to the boom in other arts. Only in 2000 Macao sculpture embraced the new trends of contemporary art. Sculpture art became more sophisticated in its expressional forms, and its exchanges with the rest of the world more active. By then, a group of creative and already matured artists began to emerge, with a significant production of excellent works, some of which are featured in this exhibition, which offers the public a glimpse of the state of the art of Macao sculpture.
Works displayed in this exhibition are innovative in concept, but also in their expressional ways, materials used and techniques employed. In thematic terms, most pieces express personal sensibilities, while others take on social issues exploring people's role and status in the society, or even reinterpreting historical fables, in mostly ironic, hyperbolic ways. Macao sculptors experiment with various materials, exploring an array of possibilities on sculpture by using plastics, lightings, and ready-made objects as creative elements, along the traditional wood, stone and metal. Furthermore, they apply a variety of techniques like engraving and moulding, assembling and moulding, firing as well painting to represent their works, for enhanced expressivity, thus enriching the language of sculpture.
This exhibition features 30 recent sculpture works by 26 Macao artists. Some are mentor – student, some are fine art graduates returning to the city after studied overseas; and still others are autodidacts who have long been honing their own styles. This background diversity is crucial to foster the creativity of Macao sculpture.
The exhibition is presented into two sections, Sculptures with Pedestals and Environmental Sculptures, respectively displayed indoors and outdoors, with the aim to highlight the interactions between sculpture art and space and the social environment. This exhibition is an opportunity to grasp, in a comprehensive manner, the evolution of contemporary sculpture art in Macao. Besides facilitating exchanges and mutual learning, we hope to promote sculpture art, therefore enhancing the general public's understanding and appreciation of Macao sculpture.
About the exhibition
Duration: 1 Dec 2013 – 9 Feb 2014
Venue: Macao Museum of Art
Opening Reception: 30 Nov 2013 Sat 16:00
Gallery Opening Hours: Tue-Sun 10:00-19:00, closed on Mondays
Tel: 853-87919814
Add: Macao Culture Centre, Avenida Xian Xing Hai s/n, Nape – Macao
Courtesy of the artists and Macao Museum of Art, for further information please visit www.ccm.gov.mo.
Related posts: