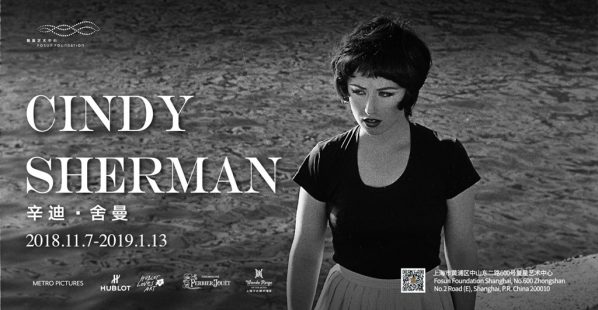 Fosun Foundation Shanghai presents "Cindy Sherman's First Solo Exhibition" from 7th November 2018 to 13th January 2019, showing a well-acclaimed collection of the remarkable senior figure of photography in United States. Bringing together 128 series of photographs and several shooting props along with references spanning different periods, this retrospective survey traces Cindy Sherman's career from the 1970s to the present day and attempts to explore dominant themes in her visual creation throughout four decades. In conjunction with the exhibition, Cindy has nine world's first brand new works to unveil to the public. She also custom-designed two pieces of wallpapers for Fosun Foundation Shanghai.
About the artist
Cindy Sherman was born in 1954 in Glen Ridge, New Jersey, and lives and works in New York. Considered one of the most influential artists of her generation, she came to prominence in the late 1970s with a group of artists known as the Pictures Generation. She will be the subject of a one-person exhibition at the National Portrait Gallery, London, in 2020. Her 2012 retrospective at the Museum of Modern Art, New York, traveled to the San Francisco Museum of Modern Art; Walker Art Center, Minneapolis; and the Dallas Museum of Art. Additional recent exhibitions include the inaugural exhibition at the Broad Museum, Los Angeles; me Collectors Room Berlin / Stiftung Olbricht; Sammlung Goetz, Munich; and Untitled Horrors, Astrup Fearnley Museum, Oslo, which traveled to Moderna Museet, Stockholm, and Kunsthause Zurich. Sherman has participated in four Venice Biennales, co-curating a section at the 55th exhibition. Additionally, her work has been included in five iterations of the Whitney Biennial, two Biennales of Sydney, and the 1983 Documenta. She has been the recipient of the Praemium Imperiale, an American Academy of Arts and Letters Award, a MacArthur Foundation Fellowship, and a Guggenheim Memorial Fellowship.
About the exhibition
Date: November 7, 2018 to January 13, 2019
Opening Hours: Tuesday to Sunday (Last Admission: 17:30); Closed on Mondays (Except for Public Holidays).
Opening time extends to 20:00 on every Thursday and Saturday (Last Admission: 19:30).
Address: Fosun Foundation Shanghai, No.600 Zhongshan No.2 Road (E), P.R. China 200010
General Ticket: RMB 100
Early Bird Pass: RMB 50 (Price only validates from September 30 to November 6, 2018)
Courtesy of the artist and Fosun Foundation Shanghai, for further information please visit www.fosunfoundation.com.
Related posts: