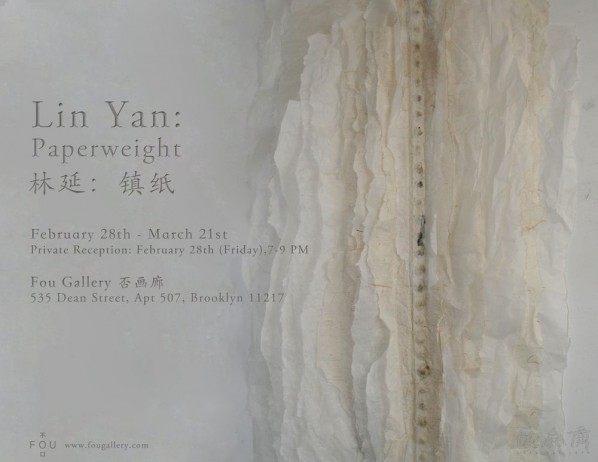 Fou Gallery is pleased to present Lin Yan: Paperweight from February 28 through March 21, 2014. The exhibit, concurrent with her project at Tenri Culture Institute, will feature several recent small works and a site-specific "Cloud" installation.
As suggested in the exhibition title, recent works of Lin continue her interest in sculptural paper collage, the foundation of which is a variety of hand-made Xuan paper. Xuan paper is renowned for being soft, fine textured, translucent, suitable for conveying the artistic expression of Chinese traditional painting and calligraphy. Lin Yan makes sculptural collage with crumbled layers of papers with ink, creating a paradoxical affect of strong, post-industrial feeling.
The exhibition also expresses Lin's ecological intention and social concern. Among the works in the exhibition, are a series of paper collage, Air, Breath and Breeze, which refer to the unprecedented air pollution in Beijing. By incorporating elements in the environment into her work, Lin further blurs boundaries, embraces conflict and calls on public awareness of evolving ecological and environmental threats.
Lin Yan: Paperweight coincides with Lin Yan: Dispelling the Clouds, on show at The Art Gallery of Tenri Cultural Institute, 43 West 13th Street, through March 13th, 2014.
Lin Yan (b. 1961, Beijing) based in Brooklyn, New York. Lin is from a third generation artist family to study abroad. Having graduated from the Central Academy of Fine Arts in Beijing (1984), she continued her studies at the L'Ecole National Superieur des Beaux Arts in Paris (1986). Moreover, she earned her M.A. from Bloomsburg University in Pennsylvania (1989). Lin has exhibited internationally at such prestigious venues as The Museum of the Chinese in America (New York), The National Art Museum in China (Beijing), Shanghai MOCA and the Dresden State Art Collection in Germany. Her recent shows include: Lin Yan – Embracing Stillness, Prow Art Space, Flatiron Building, New York (2013) and New York Beijing,Here There, Yuan Art Museum, Beijing (2013). Her works have been included in the public art collections of the National Art Museum of China, Chengdu Contemporary Art Museum and Deutsche Bank, etc.
About the exhibition
Duration: February 28–March 21, 2014
Private Reception: Friday, February 28, 2014, 7–9 pm
Location: Fou Gallery, 535 Dean Street, Apartment 507, New York, NY11217 (By Appointment Only, fougallery@gmail.com)
Courtesy of the artist and Fou Gallery, for further information please visit http://fougallery.com.
Related posts: