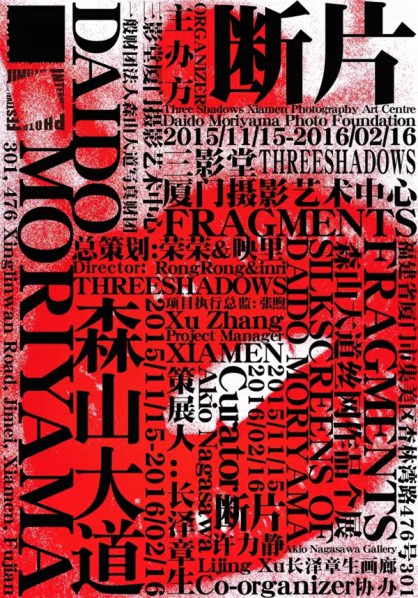 The benchmark of Chinese contemporary photography, Three Shadows Photography Art Centre announced the launch of its branch in South China, Three Shadows Xiamen Photography Art Centre. To celebrate its grand opening, Three Shadows proudly presents one of Japan's most influential photographers Daido Moriyama and his silkscreen works to Chinese audience for the first time.
While silver gelatin print and ink jet printing are recognized as well-known techniques used by photographers, it is very rare to see Moriyama's photos as silkscreen, never to mention his works on canvas in grand size. Standing in front of the carefully selected 45 images evokes a feeling as if we travel back to the time when Moriyama made each snapshot. About his work using the silkscreen technique, Moriyama says, "Fixing ink on a canvas through silkscreen and making an image with a light through film are the same in terms of making an image. When I pursue the impact of an image or want to smell ink, I use silkscreen. When I use silkscreen, a secret sense of brute force comes out, and I get a rush from it".
This exhibition is the very first attempt in Moriyama's career to give a comprehensive overview of the silkscreens produced by himself. It consists of three parts. Part I shows Moriyama's early works using silkscreen in the 1970s, which includes ANOTHER COUNTRY IN NEW YORK (1974), and the cover image released on Asahi Camera magazine in January 1970. Part II displays his recent works as silkscreen on canvas created after 2007, the majority of which is a limited edition of three. Stray Dog, Misawa (2011, A.P.), which is among his most famous images, is exhibited on a 110x143cm canvas. Part III is a set of installations and wallpaper which reconstruct the images from Tights.
Fragments: Silkscreens of Daido Moriyama will remain on view until February 16th, 2016 at Three Shadows Xiamen Photography Art Centre. Another project to celebrate the opening of Three Shadows Ximen, Jimei × Arles: East West Encounters International Photo Festival, start from Novemeber 15th, 2015.
About the exhibition
Duration: November 15th, 2015 – February 16th, 2016
Open Time: 9:30-17:30 (Close on Mondays)
Venue: Exhibition Hall, 4F, Three Shadows Xiamen Photography Art Centre
(301, 476 Xinglinwan Road, Jimei District, Xiamen, Fujian, China)
Admission: Free
Presented by Three Shadows Photography Art Centre
Daido Moriyama Photo Foundation
Director: RongRong&inri
Project Manager: Xu Zhang
Guest Curator: Akio Nagasawa (Akio Nagasawa Gallery, Daido Moriyama Photo Foundation)
Assistant: Lijing Xu
Courtesy of the artist and Three Shadows Xiamen Photography Art Centre, Image Courtesy fengniao.com, for further information please visit www.threeshadows.cn.
Related posts: