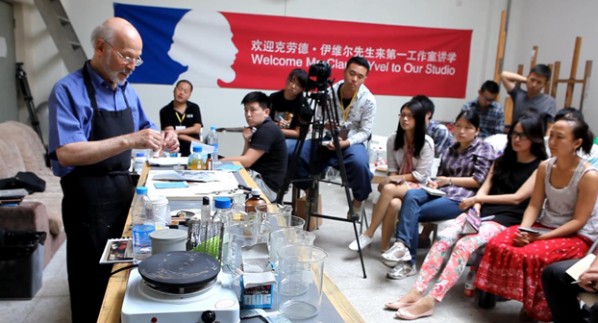 Invited by Xie Dongming, Director of the Department of Oil Painting, Hu Jiancheng, Director of First Studio of the Department of Oil Painting, noted French painter Claude Yvel is invited to visit CAFA, and giving lectures for a course of a month of traditional oil painting techniques for the First Studio of the Department of Oil Painting.
Claude Yvel is a famous contemporary French Fantasy Surrealism Painter. He is not only a skillful painter, but he has also profound researches on the ancient Western painting techniques and materials in the 1600s to 1800s, and he published a "French Claude Yvel's Oil Painting Techniques" in Chinese language, is highly praised by the art lovers.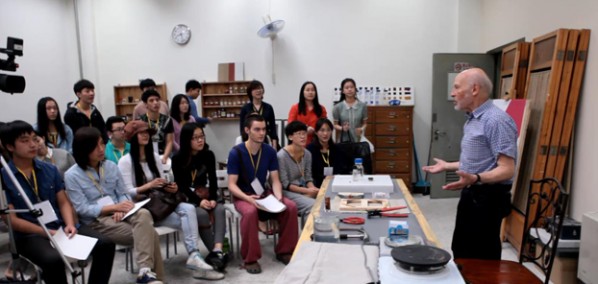 In the courses, Yvel introduces the students of the First Studio of the Department of Oil Painting to his latest achievements in research. In the process of his speeches, Yvel has always been rigorous, starting from basically producing a frame, introducing it meticulously. Although he is 84 years old, Yvel is still in high spirits, and excited.
Yvel gave a lecture entitled "How to Become an Artist" at the Audio-visual Hall at 18:30 on October 9, 2013, sharing with the teachers and students his selected works in his art life, as well as the classic painting techniques which he inherited and persisted with all his life. He finally sincerely hoped the younger generation of CAFA adheres to the dreams, breaks through fetter, and gain success.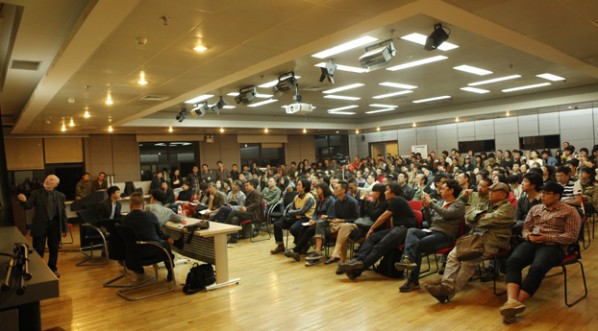 Given Yvel comprehensively and systematically introduced China to the Western ancient classic painting techniques, making a tremendous contribution to Chinese Oil Painting, the Oil Painting Art Committee of China Artists Association, award him an honorary title "China Oil Painting Special Contribution Award".
Text and photo: Cai Haokun
Translated by Chen Peihua and edited by Sue/CAFA ART INFO
Related posts: