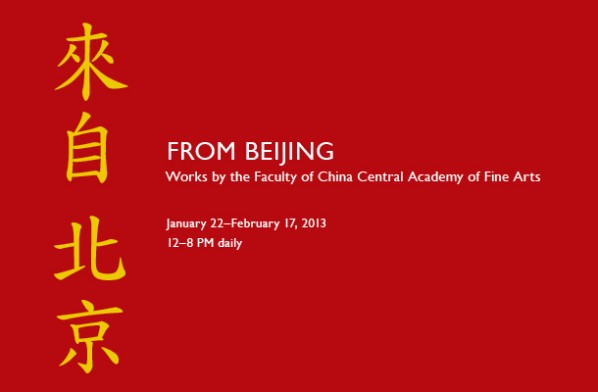 Wilkinson Gallery, New York Academy of Art is going to host a group exhibition titled "From Beijing: Works by the Faculty of China Central Academy of Fine Arts" including works by Xie Dongming, Liu Shangying, Sun Xun, Hu Jiancheng, Lu Liang, Lin Xiaochu, Li Yanzhou, Ma Xiaoteng, Wang Shaolun, Shi Yun, Kang Lei, Hong Ling, Liu Xiaodong, Yu Hong, Ma Lu, Jia Difei, Wang Yuping, Liu Gang, Pei Yongmei, Shen Ling and Zhang Yuan. It will be on view from January 22 through to February, 2012.
The Central Academy of Fine Arts(abbr. CAFA), located in Beijing, the capital of China, is an academy where culture, history and art are flourishing, which enjoys the best art resources of the world. CAFA, as a leading institution for modern art education in China, provides a rich land for those who wish to learn experience and engage in creativities, which has nurtured quite a lot of pre-eminent artists in the past ninety years.
It is the only art academy of higher learning directly under the Ministry of Education, was founded in April 1950 by incorporating the National Beiping Art College and the Fine Arts Department of Huabei University. Chairman Mao Zedong inscribed the name for the Academy. The National Beiping Art College could trace its roots back to the National Beijing Art College, the first national art education institution in Chinese history as well as the beginning of modern art education in China, which was founded in 1918 under the initiative of the well-known educationist Cai Yuanpei. They are School of Fine Art, School of Chinese Painting, School of Design, School of Architecture, School of Humanities, College of City Design as well as School of Continuing Education and the Affiliated High School of Fine Art at CAFA. CAFA provides first-rate libraries and studios for students and teachers. What's more, CAFA itself edits, publishes and distributes two nationwide periodicals of Academic Classification A, namely, Art Research and World Art.
The New York Academy of Art is a graduate school that combines intensive technical training in the fine arts with active critical discourse. They believe that rigorously trained artists are best able to realize their artistic vision. Therefore, Academy students are taught traditional methods and techniques and encouraged to use these skills to make vital contemporary art. As such, the Academy serves as a creative and intellectual center for all artists dedicated to highly skilled, conceptually aware figurative and representational art. The Academy maintains an active exhibitions schedule.Periodically, the Academy hosts traveling exhibitions of works by artists from around the globe, including the US, Latin America, South Asia and Europe.
About the exhibition
Opening Reception: January 22 Tuesday, 6–8 PM
Duration: January 22–February 17, 2013, 12–8 pm daily
Location: Wilkinson Gallery, New York Academy of Art
Address: 111 Franklin Street, New York, NY 10013
Scholar Panel
Thursday, February 14, 6 PM
Panelists: Jonathan Goodman (Yishu), Michelle Loh (Art Asia Pacific), Richard Vine (Art in America), Xie Dongming (CAFA), Xu Bing (CAFA Museum)
For further information please contact Elizabeth Hobson at ehobson@nyaa.edu or 212.842.5966.
Related posts: