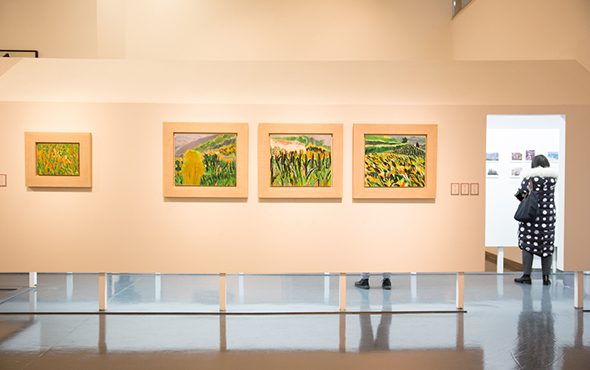 As a painter who grew up within a background of advocating realism, in the beginning Wang Keju was known for his local realistic oil painting. Since then, his painting creations have undergone many artistic changes and sublimations. Wang Keju called the 20-year painting history that started in 1997, "a process of transformation from sketch to creation". Wang has never been bored with painting. In 2017, Wang Keju travelled to Nandaihe and Zhangshiyan in Hebei Province, Weihai in Shandong, Zhujiajiao in Shanghai, Wenchang in Hainan, and the overseas places including the Czech Republic and San Francisco in the United States to sketch, and has created over 100 new pieces. On January 6, 2018, Wang Keju's solo exhibition "Wang's Style", hosted by Imatrendge Space, was unveiled at the Imatrendge Space, on display is nearly 50 original pieces selected from these new works. At the same time, the exhibition also researched representative works and sketches, as well as photos of his sketching since 1997 using a form of anthology and chronology.
Li Dajun, the founder of Imatrendge Space, appreciates Wang Keju's art, and believes that Wang Keju can be seen as a member of the colorist school of contemporary oil painting in China. Wang has filtered the traditional theory of light color, using flat brushstrokes to draw in a straight forward manner. With the complex overlapping of color, composition and rhyme, a piece of work was given an aura and lively visual sense, this formed Wang's style which is easily identified and thus formed a temperament. It is named "Wang's Style", which was proposed by Li Dajun based on his many years of observation of Wang Keju. Wang was very busy as he has held several exhibitions at the National Art Museum of China and Zhuzhong Art Museum, etc. in 2017, in addition to devoting his energy to creating works. It can be said that Wang was active in a variety of group exhibitions and invitational exhibitions of both the landscape painting and freehand painting. At the beginning of 2018, he planned and held a solo show entitled "Wang's Style". When interviewed by the journalist from CAFA ART INFO, Li Dajun said that, it was both a summary of Wang Keju's previous works and a manifestation of his new creations of painting in 2017. "Wang's Style" means creating a new style, and Li Dajun said it was a neutral word, rather than having a complimentary sense or derogatory sense. Wang Keju's new works show a new style from the perspective of artistic ontology, and the show is held in order to promote this new style.
How to create a new style in this batch of landscape paintings in 2017? When he was interviewed, Wang Keju said that he had drawn a lot of deep-tone works because of his pursuit of traditional artistic conceptions from 2015 to 2016. In the past two years, he has realized the charm of the ancient art of calligraphy when reading the theory of the aesthetics of calligraphy, influenced by which, he gradually began to use some writing factors in his creation. It is obviously reflected in the new works of 2017, including "The Beautiful Taihang – Zhangshiyan", "Happy Fish under the Bridge Where Fish Were Set Free – Zhujiajiao", "Rift Valley of Lu'an" series, etc. Speaking of the contrast between the old and new styles, Wang Keju said frankly that, he delineated and then colored the images of the previous works, with a strong sense of metal & stone, while he would like to color ahead of delineating now, highlighting the writing of lines. Moreover, he combines both at an appropriate place, creating works with a special feature.
In addition, "style" means a character and style in the traditional Chinese context. In Wang Keju's opinion, the style of the work has a distinction between elegance and vulgarity. Only the work of a character can be called a good piece, which means that the work's character determines the work's quality to a greater extent. In the long-term practice of painting, Wang Keju, who was raised by mountains and rivers, tempered by his ascetic practice, has formed a clean, clumsy and pure character, which embodies a style of painting. As the curator wrote in the foreword that states now Wang Keju's work is neither local nor academic or freehand, but contemporary, a creation of personality in the context of contemporary art, being full of vitality and positive energy. Carrying the book of "Wang Keju's New Exhibition" published by the exhibition, carefully reading it, this clean, clumsy and pure painting experience makes people feel like being immersed in the scenery of a new world created by Wang Keju.
Since the 1980s, Wang Keju has formed a realistic style, the analysis of the process of transformation of the western art from the traditional to the modern, as well as the in-depth study on the characteristics of the era formed by several generations of oil painters in China, and then to find the thematic scenery corresponding to the spiritual sentiment, re-established a new order for the screen. Where did these things come from? In this regard, many experienced critics and curators have analyzed Wang Keju's creation and his inherent spiritual root. In Wang Keju's own words, it stemmed from his impressions of natural rhythms. He added his impressions of sketching in the face of nature to the new exploration of the expressive style of painting. Wang Keju's long-lasting motivation for the exploration of art forces him to get rid of stereotypes and strive for progress, which made his artistic achievements become affirmed by people, enlightening the contemporary art creation in the background of globalization.
In the future, what kind of works will Wang Keju present can't be predicted. However, from the creative context of the artist, Wang Keju's new works at present and the pieces in the future will become a style and a personal style that belongs to the artist. It remains on view till February 6, 2018, and also starts the exhibitions of Imatrendge Space in 2018.
Text and photo by Yang Zhonghui/CAFA ART INFO (photos of artworks courtesy of the organizer)
Translated by Chen Peihua and edited by Sue/CAFA ART INFO
About the Exhibition 
Host: Imatrendge Space
Co-organizer: Zaiart APP
Curator: Li Dajun
Venue: Imatrendge Space, E2 Jili International Art District, Gaobeidian, Chaoyang District, Beijing
Duration: January 6 – February 6, 2018
Related posts: