Zhang Huan is a remarkable innovator who has clearly emerged as one the most important international artists of the past few decades. From the hypnotizing performance images of the early 1990s to the sculptures and installations of recent years Zhang Huan's work has become almost synonymous with the understanding of contemporary art from China. Born in Henan province in 1965 Zhang Huan graduated in 1993 from the oil painting department of Beijing's Central Academy of Fine Art. He never sought to work as a conventional painter but moved quickly to Beijing's East Village where many artists of his circle were working together in harsh and unforgiving conditions. Here Zhang developed the radical performance practice for which he first came to international attention. Using his own body as the site for his creation, these performances were often physically demanding and even cruel. They were also undeniably haunting and poetic. Between 1998 and 2005 Zhang Huan spent a formative period working in New York. There he developed his performance and photographic work often in collaboration with important American museums and galleries. It was on his return to China in 2005 however that the artist entered an intensely creative period. Setting up a large studio complex in the industrial outskirts of Shanghai Zhang started working with what were to become signature materials and themes: leather and incense ash gathered from city temples with which he created strange sculptural figures and representational canvases; huge woodblock prints; carved wooden panels; copper Buddha figures and so on. The sheer physicality of Zhang Huan's performance remained tangible in all of this subsequent work. At the same time, he continued to develop his original core concerns of spiritual practice and transcendence as well as a sense of ancestry and the importance of human memory. Zhang Huan was never a stranger to the expression of pain and his work continued to explore this theme in the great spirit of public resistance.
The OTHER GALLERY's exhibition From the Ashes – Zhang Huan is a rare opportunity to see important transitional works produced by Zhang Huan mainly in 2006 and 2007. Zhang had already set up his Shanghai studio and was producing his first woodblock prints, ash paintings and sculptures as well as the hide and copper works for which he was later to become so celebrated. The current show includes an early series of enchanting, small ash heads, an important ash painting and an early Buddha head in leather. The ink on paper Smoking Buddha pieces are disarmingly pared-down renditions and are extremely valuable early explorations of what were to become significant large sculptural works. The monumental woodblock works display the artist's sure hand as well as the scale of his artistic ambition. Zhang Huan's work is highly sought after and is found in many of the most important museum and private collections worldwide. From the Ashes – Zhang Huan is a rare chance for the public to piece together a part of the narrative of this extraordinary artist's career for themselves.
About the exhibitions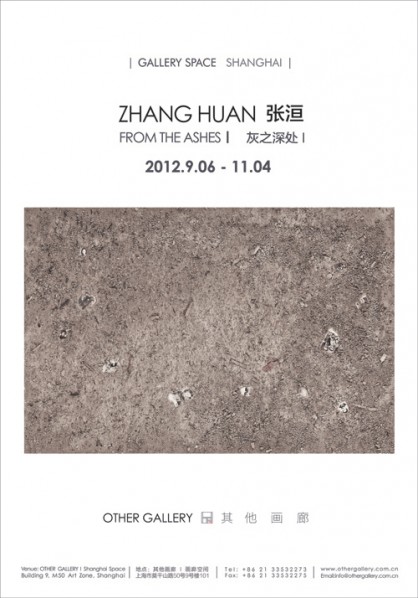 FROM THE ASHES Ⅰ
Duration: Sep 6th – Nov 4th, 2012
Vernissage: Sep 5th, 2012, 5:00-8:00pm
Venue: OTHER GALLERY l Gallery Space
NO.101, Building 9, Moganshan Road, M50 Art Zone, Putuo District, Shanghai, China.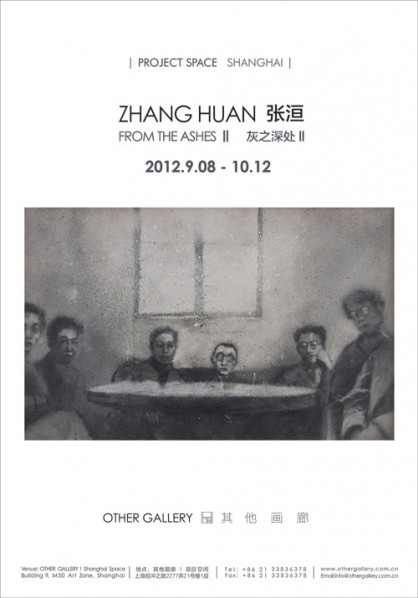 FROM THE ASHES Ⅱ
Duration: Sep 8th – Oct 12th, 2012
Vernissage: Sep 7th, 2012, 3:00-6:00pm
Venue: OTHER GALLERY l Project Space
1st Floor, Bldg 21, No.2277, Zu Chongzhi Rd., Pudong Dist., Shanghai, China.
Courtesy of the artist and Other Gallery | Project Space, for further information please visit www.othergallery.com.cn.
Related posts: