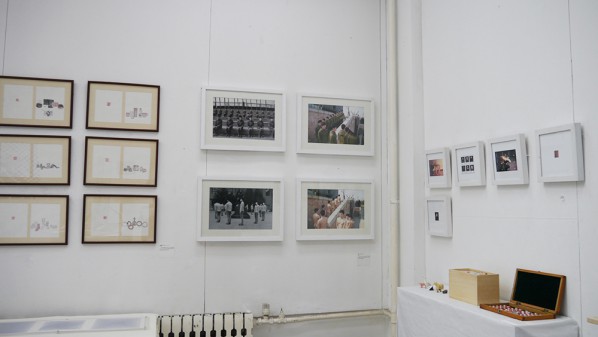 "From the Beginning – The Debriefing Exhibition of Thinking Transformation Course for the Sophomore Students of the Department of Printmaking" was presented at E2-320 and F2-304 on the 3rd floor of building 5, CAFA, from April 14 to April 18, 2014, and it brought together nearly one hundred works by 36 sophomores of the Department of Printmaking, involving various art forms such as painting, installation, video and performance. Participating students include: Cao Shu, Chang Tianhe, Chao Pingyang, Che Lei, Chen Dibei, Chen Mingwei, Cui Huiyuan, Ding Min, Gao Yunhe, Guo Meiyi, He Jing, Lao Jiahui, Li Ruoxi, Li Shuangqiang, Liang Lanruo, Lin Miaohui, Liu Chang, Liu Yang, Luo Cheng, Ni Zhengpeng, Pu Zhenming, Sha Shuang, Song Xiaoke, Su Kun, Tong Ming, Wang Yuanxu, Wang Ruitao, Wang Zhiyu, Xian Jing, Xiao Baihe, Xie Yanhong, Yang Dan, Zhao Yang, Zheng Yuhan, Zhou Xinhui, Zhou Yue.
In the first semester of 2014, sophomores of the Department of Printmaking, CAFA started the 6-week thinking transformation course directed by Li Fan, and the course was divided into five subjects: association of things, reinterpretation of traditional culture, rational thinking, materialization and haze . Guided by Li Fan, the 36 sophomore students finished the creation on each subject every week after working together, and the exhibition selected two pieces from their five finished subjects to exhibit. Seen from the works presented, we can see the students had sincerely devoted their time and mind to the creation.
From class discussions and creative practices, combing through works, publication of an album, to the final exhibition, each link connects with each other in the form of notes, work, text and exhibition, revealing what the Department of Printmaking cultivates and focuses on the practical abilities and comprehensive qualities. A student concluded about the course: "Although the process makes me very tired, I understand the necessity of the thinking transformation course, because the divergent thinking training, and the form and method of thinking not only helps the artistic creation, but also affects every aspect of life. During the course, the teacher not only teaches the tracks for creating thought, but also corrects the issues of the working attitude, it is essential to be serious in creating art, and all things in life will collide with art to produce inspiration, the key to create a beautiful artwork is to present an attitude to life and art."
Sophomores of the Department of Printmaking go out to unfold a 2-week sketching and observation course, and the report exhibition on the thinking transformation course will continue to be open to the public from May 4 through to May 10.
Courtesy of the students, translated by Chen Peihua and edited by Sue/CAFA ART INFO.
Related posts: