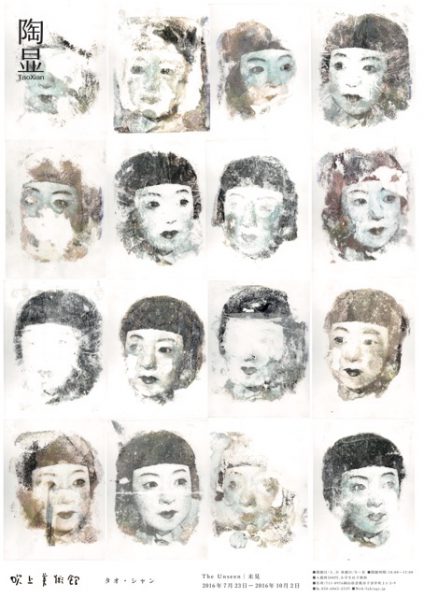 Fukiage Museum of Art presents a solo exhibition entitled "The Unseen" by artist Tao Xian. This exhibition investigates the ambiguity and anxiety of human perception when the information we acquire from the outside world becomes momentary, fragmented and drifting.
The work Time in a Portrait consists of twenty-eight image transfers on Mylar, in which all the images comes from one source. According to Tao, the original image was a portrait of a girl found online with neat bangs, thin eyebrows, and doll-like lips. She had a face that was so compelling and delicate that it seemed to be diligently carved by a blade. Later, Tao found the same image with captions on a few Japanese websites. The captions all pointed to the same story: a Japanese man who lost his beloved wife. In order to remember her, he made a doll that looked almost identical to his wife when she was young. Afterwards, he took out his wife's eyes and installed them into the doll's face. He assumed that his wife could remain young and beautiful forever. Although superficially unrealistic, the artist felt attracted by the idea that the girl is a combination of a human and non-human entity because that's where the staggered feeling of push and pull comes from.
In Time in a Portrait, Tao tries to capture the unseen by rendering the same portrait over multiple times with tonal variations. The process presents a state of in-betweenness, in which the person portrayed is nobody yet at the same time can be anybody.
Tao Xian makes paintings, photo transfers, videos, and installations. They are often process-based, using both analog and digital technologies to reinterpret photographic images. She is interested in the failure of preserving memory particularly in the digital era. As well the sense of alienation we all experience with respect to images and how they affect us while creating distances. By using images that connect to memory traces, she wishes to create spaces of critical thinking, to reflect the idea of seeing, recalling, and distancing in a contemporary visual world.
About the artist
Tao Xian was born in 1991 in China. She currently live and work in New York. She had her BFA in Painting from the Central Academy of Fine Arts in China and MFA in fine arts from the Parsons. Her works have been shown at Participant in New York, Untitled Space in New York, 25 East Gallery in New York, Industry City in Brooklyn, China Art Palace in Shanghai, and Taikoo Li Sanlitun North Gallery in Beijing.
About the exhibition
Dates: July 23— October 2, 2016
Venue: Fukiage Museum of Art
Address: 1-3-9, Fukiage, Shimotsui, Kurashiki-City, Okayama, Japan
Courtesy of the artist and Fukiage Museum of Art, for further information please visit www.fukiage.jp.
Related posts: