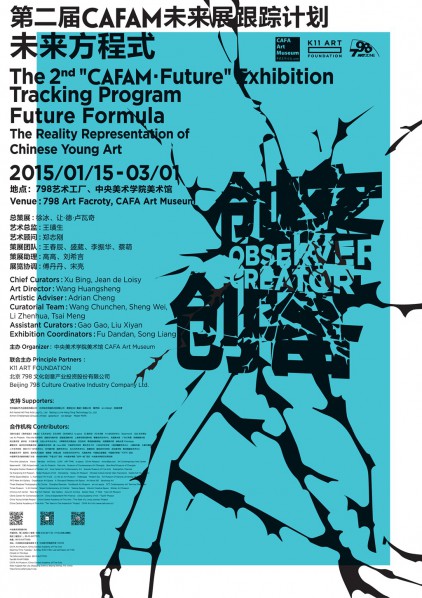 Preface for the Exhibition
Here, we utilize the multiple implications of the term "formula" – a mathematical equation, a set of rules, or a detailed plan. In science, a computer formula is both an operation and a simple method for symbolically conveying information. Therefore, we combine the symbolic concepts of the formula and the future, but we do not intend to stylize and conceptualize this segment of Chinese contemporary art. Instead, we want to provide a true future for Chinese contemporary art through possible operational plans and future standards. Of course, if viewed from the perspective of mathematical computer models, formulas are equations containing unknown numbers, hinting at the uncertainty and dynamism of the future of contemporary art. The final answer to the equation might be that increasing the value of the equation also implies a decrease in value. This possibility reminds us of the liveliest part of contemporary art and creates new, dynamic models.
The twelve artists in this exhibition have also participated in this edition, and the last edition of "CAFAM • Future". For this edition, artists were nominated by art institutions, and they are artists that have continued to move forward in their artistic practices. We have planned "Formula Future" around their latest creations. In this sense, "Formula Future" represents our continued encouragement of and support for young Chinese artists, while also closely linking this edition of the "CAFAM • Future" series to the last edition. Based on this link, we hope to find a useful formula, which will provide a new vision of the energies flowing between art, art education, and artists.
"Formula Future" will be presented in the 798 Art District, which adds another level of symbolism to the show. By emerging from the art academy into public space, we have given these young artists opportunities for development in the larger world.
About the exhibition
Dates: from 16 January 16 through to 1 March, 2015
Opening: 16 January, 17:30
Venue: 798 Art Factory
Artists: Cai Yuanhe, Geng Xue, Li Qing, Ni Youyu, Pei Li, Tian Xiaolei, Wu Jian'an, Xu Bacheng, Yan Bing, Ye Funa, Yang Xinguang, Zhang Wenchao
Courtesy of the artists and 798 Art Factory.
Related posts: