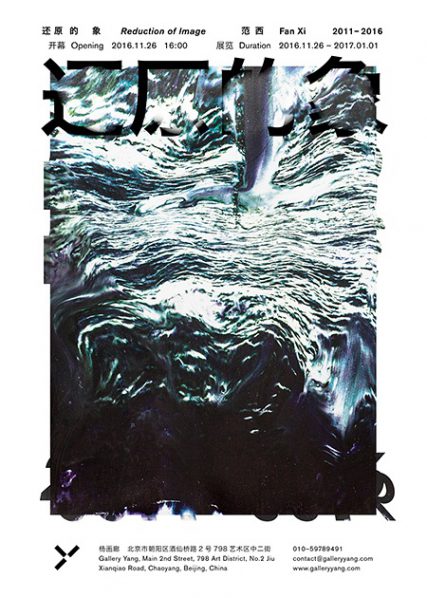 Gallery Yang will open Fan Xi's first major solo exhibition, "Reduction of Image", on November 26, 2016. Presented in this exhibition is her focus throughout her body of work on people and things and the transformations of her ways for expressing the relations between image and object—namely, how images are imagined and emerge within human consciousness and mediums. The exhibition will be on view until January 1, 2017.
As people's lives and work are transformed by their use of computers and the internet, the most distinct change occurs in our modes of reading, communication, and expression for which a lot of energies are now invested in replacing the traditional ways of communication through language with images. At the same time, artificial intelligence and its provisions of biophysical and technical environments have been particularly influential among the younger generation, who have become more reluctant to read texts and instead dive into the dissemination and consumption of images. This "time of image-reading" surges forward. We do not merely extract information from images or seek out the multiple realities they represent, but rather confront, judge, and manage huge amounts of images that are invaded by multiple realities. The notion of photography has become a common social behavior carried out with mobile phones and other portable digital devices that allow the user to snap and share the images anytime and anywhere. People are accustomed to snapping pictures and being photographed; this enthusiasm for aesthetics has become their portrayals of true narcissism. For this reason, the ubiquity, abundance, and consumption of photography in this "time of image-reading" together usher the general public into a fervor that terminates the "heroic era" of photographic art, leaving photographers to seek ways of crossing over and surviving the ocean of images.
Fan Xi graduated from the Department of Sculpture, CAFA, in 2009. In 2011, she began turning her practice from sculpture to photography and video. This exhibition shows a selection of her photographic works (over 100 pieces) across 2011 to 2016. There are 4 main sections: Time Length, Tree, Reduction of Image, and All Beings. In this large context, Fan Xi and her photography's possibilities for each other have to do with knowing and perceiving the self. In her words, "Although the light and shadow may have disappeared, the 'I' is still here."
About the exhibition
Dates: 2016.11.26 – 2017.01.01
Venue: Gallery Yang
Courtesy of the artist and Gallery Yang, for further information please visit www.galleryyang.com.
Related posts: