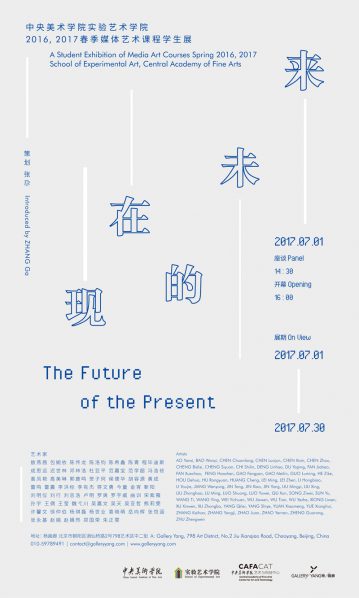 This exhibition is the result of two courses taught in Spring 2016 and Spring 2017 at the School of Experimental Art, the Central Academy of Fine Arts. Under the curricular directive of "Future Media Art," which is a concentration of study at the school, "Understanding and Experiencing Media Art" for undergraduate studies and "Topical Issues on Media Art" for graduate studies are required courses designed to introduce to students an overview of media art in both theory and in practice.
While acknowledging new media art's genealogical roots in the tradition of the historical avant-garde and tracing its trajectory and evolution from analog media to digital media and from its endeavor to extend somatic and sensorial boundaries to re-imagining a new ecological and environmental worldview, this study also ventures to critique the predominant contemporary art discourse entrenched in the rhetoric of semiotics and linguistics and its ethical foundation ingrained in postmodern intersubjectivity. It proposes an understanding of new media art articulated through the posthuman condition in which humans, things, and artifacts constitute a multitude of subjects and advocates a concept of art making manifested by "presence" and embodiment, autopoesis and agency implicated in the purview of interobjectivity.
Through readings, analysis of seminal works, writing assignments and discussions in conjunction with topical lectures and technical workshops, students have obtained an understanding of the significance of media art as a pivotal contemporary experience and have also acquired a basic familiarity with its formal language.
Future of the Present presents selected works by students, individually and collectively, in these courses. For most of the participants, this was the first time they have laid their hands on circuit boards and soldering stations or written a few lines of algorithm. But their creative impulse was pronounced and gratifying. The works range from interactive installations that mobilize various sensors to activate visceral experiences to BCI (Brain Computer Interface) augmented theatricality; from alternative VR and AR enabled storytelling to soundscape and visual tropes engendered by magnetic fluids and other ingredients of alchemy to innuendos on robotic performativity. They show uncanny visions and sometimes reveal whimsical innocence; they display a bold curiosity that questions the validity of the Real as we know it and challenge the given. If "Future Media Art" alludes to a discipline of the art of tomorrow, then the future is promised by the present.
About the exhibition
Introduced by ZHANG Ga
Panel: 2017.07.01 14:30
Opening: 2017.07.01 16:00
On View: 2017.07.01-07.30
Artists: AO Yanxi, BAO Wanyi, CHEN Chuanlong, CHEN Luojun, CHEN Xixin, CHEN Zhou, CHENG Bidisi, CHENG Siyuan, CHI Shilin, DENG Linhao, DU Yaping, FAN Jiabao, FAN Xuechao, FENG Haozhen, GAO Fengyan, GAO Meilin, GUO Luming, HE Zike, HOU Dehua, HU Rongyuan, HUANG Cheng, LEI Ming, LEI Zhen, LI Hongbiao, LI Youjie, JIANG Wenyong, JIN Tong, JIN Xiao, JIN Yang, LIU Mingyi, LIU Xing, LIU Zhonghao, LU Ming, LUO Shuang, LUO Yuwei, QU Xun, SONG Ziwei, SUN Yu, WANG Ti, WANG Ying, WEI Yichuan, WU Jiawen, WU Tian, WU Yazhe, XIONG Liwen, XU Xinwen, XU Zhongbo, YANG Qilei, YANG Shiye, YUAN Xiaomeng, YUE Xianghui, ZHANG Kaihan, ZHANG Yongji, ZHAO Juan, ZHAO Yanran, ZHENG Guorong, ZHU Zhengwen
Organized by Central Academy of Fine Arts, CAFA Center for Art and Technology, CAFA School of Experimental Art, and Gallery Yang
*The exhibition will also be presented at the Central Academy of Fine Arts in the Fall of 2017.
Courtesy of the artists and Gallery Yang, for further information please visit www.galleryyang.com.
Related posts: