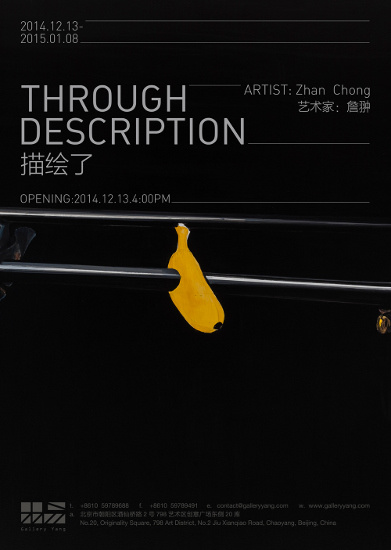 ZHAN CHONG│THROUGH DESCRIPTION│2014
I think my paintings are related to "description". They describe some objects and logics at a distance, and Fetishism and Distance were two examples. This year I want to describe some concepts of more plentiful traits, so as to take another step back to the pictorial structure itself. I choose to describe "description".
This choice has something to do with the fact that I couldn't intensively read any book for a year, and often wobbled absentmindedly between several books. Paragraphs from them stood in front of my eyes at the same time. I didn't grasp the complete picture of any single book, but felt that each partial description was already an independent individual. For that reason, the producing process of the workings proceeded in a way of moving forward and repetitively revising back and forth. It gave rise to some wavering and uncertainty.
The word "description" easily reminds of look-on, structure, rhetoric, and sequence. These concepts happen to meet my interests, and constitute most of my thinking reactions to the external things. I wonder if I could describe "description" without expectation in a pictorially structural way.
The production of the workings did not have a solid schedule. If this allowed me to describe some ambiguous "description" formulated with a single motive, it might be interesting.
About the artist
Zhan Chong
1983 Born in Zhejiang Province of China
2002 Graduated from High School Affiliated to China Academy of Art
2006 Graduated from Academy of art & design Qinghua university
Award
2014 Jonh Moores Painting Prize
Solo Exhibitions
2014 Through Description Gallery Yang, Beijing, China
2014 Distance Antenna Space, Shanghai, China
2013 Fetishism Gallery Yang, Beijing, China
Group Exhibitions
2014 ART MO Macau, China
2014 ART021 Shanghai, China
2013 Art Beijing Beijing, China
2012 anámnēsis Mizuma and One Gallery, Beijing, China
2012 Blind Spots Gallery Yang, Beijing, China
2012 Up ··· Scale Gallery 55, Shanghai, China
2012 Spot Light, 18 Gallery, Shanghai, China
2011 Spring Chill Ldx Contemporary Art Center, Beijing, China
2011 History ▪ New Song Zhuang Sunshine Museum, Beijing, China
2011 Art Archives of the 80's Generation Songzhuang Art Center, Beijing, China
About the exhibition
Duration: Dec 13 2014 – Jan 8 2015
Venue: Gallery Yang
Opening: Dec 13 2014 Sat 4pm
Tel: 010-59789491
Add: No.20, East of 798 Originality Square, B District in 798 Art Zone, No.2 Jiu Xianqiao Road, Chaoyang District, Beijing
Courtesy of the artist and Gallery Yang, for further information please visit www.galleryyang.com.
Related posts: