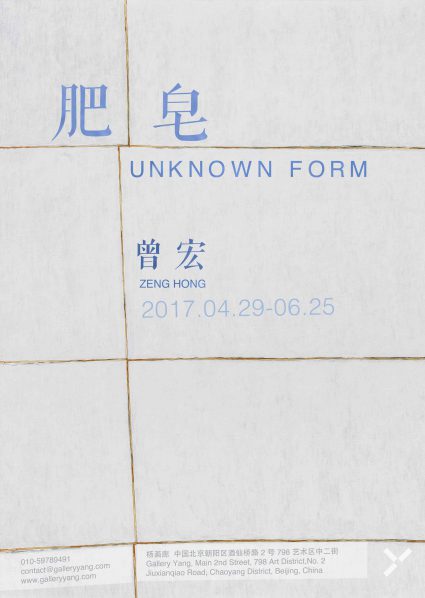 On April 29, Gallery Yang will open Zeng Hong's solo exhibition "Unknown Form." This is Zeng Hong's second solo exhibition at Gallery Yang, following his first exhibition in 2015. Presented in this exhibition is the artist's recent body of work, which is comprised of more than 10 new paintings. The exhibition will be on view until June 25.
The exhibition's English title "Unknown Form" is indirectly analogous to the Chinese title of 肥皂 (feizao, which means soap). This title originated in an allegorical relationship that Zeng Hong experiences in his practice. "When you try to paint a chair, what you achieve in the end is, in fact, something that looks like soap. But, when you actually want to paint soap, there is no way to capture its minute details," Zeng Hong says. This relationship has pervaded Zeng Hong's practice in recent years. Between a single form and concrete objects, ways of seeing and existence in reality echo each other, unable to break their connection. And yet, an object can only provide sight with a clue. Sight will forever be unable to make contact with or reach reality, which both can not be reconstructed and evades definition by sight. The artist aims to render the invisible among the visible, and he repeatedly oscillates between these two poles. This sort of repetition is at once born from the distance sight maintains and is a delayed effect brought about by history's wounds. From this, a quality of the unknown is created in the artist's practice, forcing him to fill this gap with incessant actions.
In the process gap filling, Zeng Hong gradually renewed his own understanding of form. The lines on his canvas are not simply borders of form's limits and meaning; they themselves become independent forms, gradually surmounting merely visual forms, becoming a sculpted object.
During the period of time of his recent work, Zeng Hong has had conflicting views. He urged the momentariness as sturdy as a monument—originating in the now abandoned territory of socialism—of objects to remain, while also aiming to break previous limitations in meaning. In this moment of indeterminacy, the feelings and movements of painting gave him a critical foundation, as his dense brushstrokes gradually replaced tedious, straight lines and square forms. New space accumulated upon his canvas, and with this the various relationships between forms and space were once again determined.
About the artist
Zeng Hong was born in Ziyang, Sichuan, in 1974, and he graduated from the Sichuan Fine Arts Institute. He currently lives and works in Beijing.
About the exhibition
Opening: 2017.04.29 16:00
Duration: 2017.04.29-06.25
Venue: Gallery Yang
Courtesy of the artist and Gallery Yang, for further information please visit www.galleryyang.com.
Related posts: